2020-21 has been the time of eLearning (among other things), with more employers than ever making the switch over to remote learning and implementing a learning management system for the first time.
Is Google Classroom right for businesses? LMS  vs. Google Classroom, pros and cons.
I speak to businesses and organizations while they're considering implementing a Learning Management System. Lately, Google Classroom is coming up in conversations. Google's contribution to the eLearning push isn't a coincidence – they've got a good system – but is it the right LMS choice for businesses?
With in-classroom learning on the back burner for professional applications, I'm sharing my research and comparison of Google Classroom vs other LMS.

Is Google Classroom a Learning Management System?
Google's G Suite is a popular choice for many. With its various tiers – Basic, Business, Enterprise and Education – this package of services is the flexible option most see first and settle on.
Google Classroom, originally only available on their Education tier, is now useable for the groups that have chosen one of the other three configurations. Immediately making it clear the Classroom is the simple-to-use learning tool for teachers, Google has given the service useful features for educators:
Attach videos, photos and URLs to assignments, as well as share them with users.
Move course results to a Sheets or downloaded .CSV (popular Excel format) to then send to users. There's also a Grades page for users to check in on.
Schedule due dates, regularly-occurring tasks and post-date announcements.
Upload resources for students to the Classroom's resource page.
Clearly, Classroom hits on some of the main things an educator or newcomer to the LMS world would be looking for when thinking up their remote learning strategy.
Potential shortcomings for Classroom as an LMS for businesses
Like most of today's software, though, Google's solution has potential dealbreakers and certain areas that are lacking in functionality for both end-users and admins.
When a product seeks to be the first and final word on something, they can end up 'playing it safe' with many features rather than pushing the envelope..
In their article How Google Classroom became teachers' go-to tool—and why it's fallen short, Fast Company points out that conventional big players are tied up with responding to the competition's big features (ie: Zoom's video conferencing) instead of refining their main attractions with more robust settings.
Dedicated LMS sources, conversely, direct all of their time and effort towards being as configurable and effective as possible for learners and training administrators.
It's hard to fully duplicate the in-person experience – but there are ways.
Remote learning, as the name implies, places everyone apart. On the surface, this may seem like an excellent way to buckle down and complete some courses. But, as experts have noted, socializing helps reinforce newly-learned content and is another way to link it to real life.
Classroom's answers to this social element come in its Stream and customization options. However, these are limited:
The Stream's layout is similar to a typical social media feed: chronological, and not featuring much side-to-side navigation. For power users who feel like livening up their digital classroom's homepage, they'll turn to other LMS options.
And, of course, any other features (surveys, document editing, and more) will all be firmly under the Google umbrella. While this integration is convenient for users, they'll have to navigate away from it frequently to complete some tasks.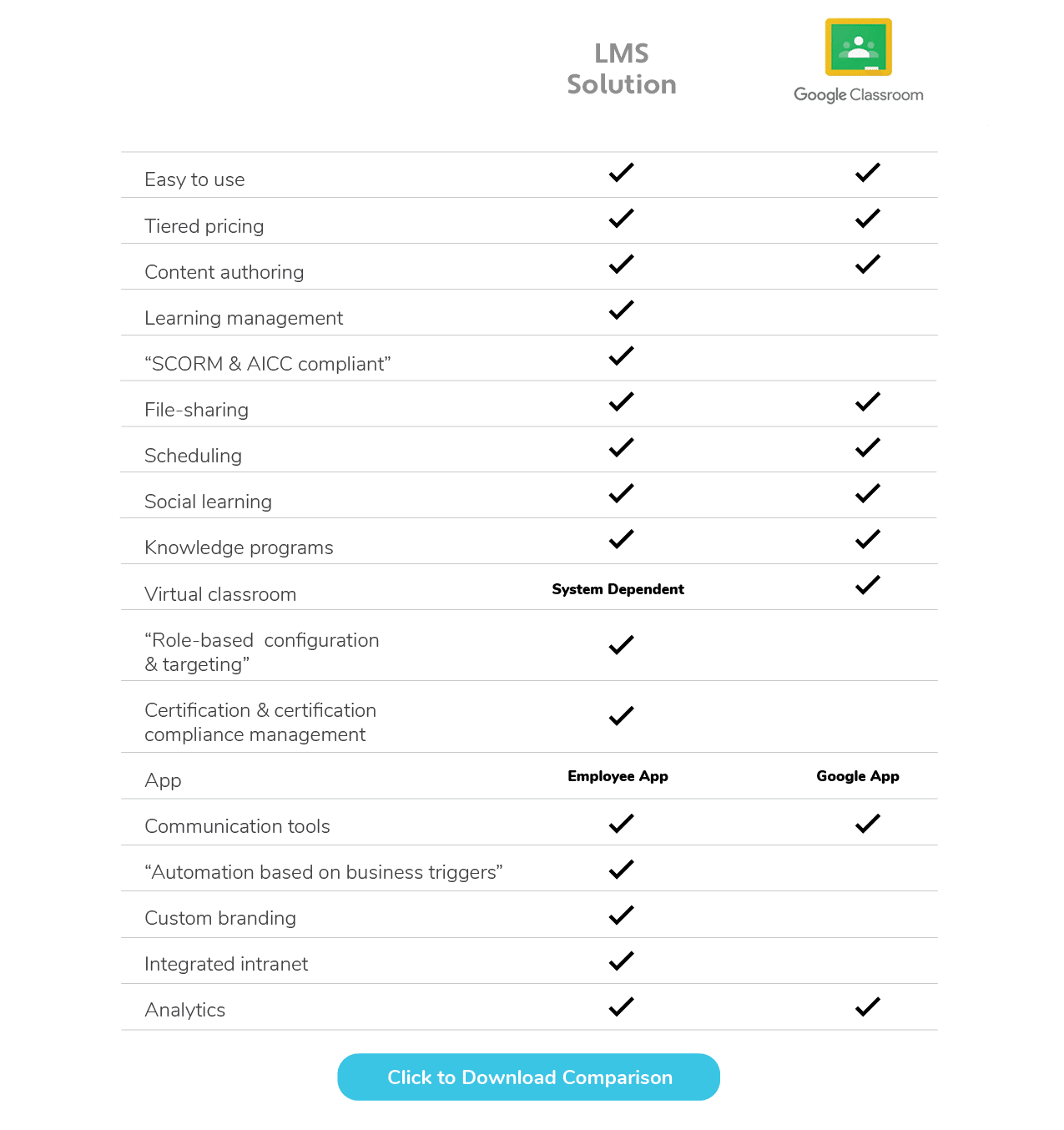 Comparing LMS options for a business' digital workplace
For employers who need to keep their workforce trained, LMS tools are the time-honoured and more fleshed out choice.
Here's a snapshot of what iTacit's LMS packs:
Larger library of supported courses: The best LMS offerings support SCORM and AICC – not just PDFs and widely-used formats.
Robust reporting and sorting: More than just results, enrolment statuses and course lists, reporting is essential for employers who need to measure compliance and the success of modules. Most compliance LMS solutions also allow administrators to view these analytics by department, role and program.
Granular course authoring and automated paths: When you're not importing training from another source, it's essential to have the option to build your own course from the ground-up. LMS tools also bring a certain level of automation with them, meaning that the day-to-day for management is more streamlined than ever.
While an excellent choice for academic/teacher-to-students settings, Google Classroom misses the mark for business use cases. This is mostly due to its shallow branding & customization options, as well as offering less for administrators and leaders in regards to filtering, targeting and tracking.
Making the right choice for your learning management system
With so many businesses exploring the switch to remote learning, there are a lot of choices.
In my opinion, for businesses responsible for a team's professional certifications, testing and development, it's best to go with an LMS. iTacit's users, for example, can complete their training in a timely fashion, dole out feedback, discuss with their coworkers and discover new training all in one place: This is what eLearning and the digital workplace are all about.