eCommerce LMS Integration
Create and Sell Online Courses with Ease
Elevate your learning management system (LMS) with eCommerce functionality. An LMS with eCommerce opens an innovative and accessible revenue stream for your organization. Easily create an online course and market your course content to an ever-growing audience of professionals.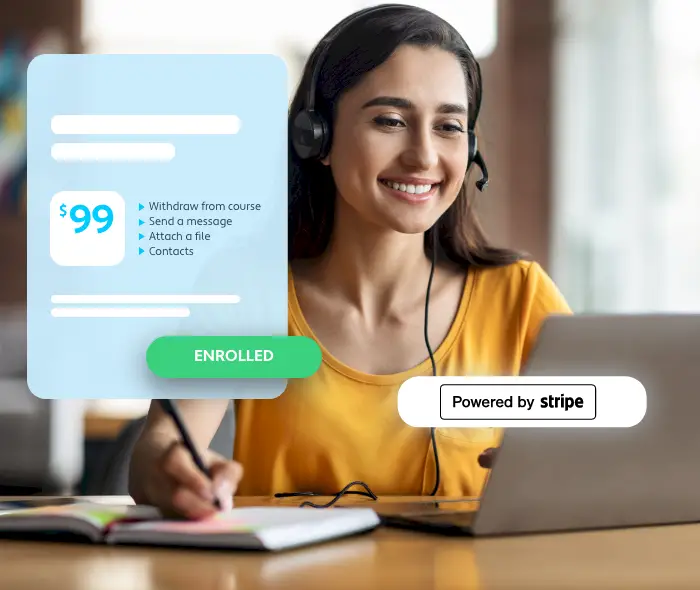 Expand Your Learning Catalog
Instantly expand your team's access to courses from other vendors and offset the cost of course content to make training and certifications more accessible for everyone.
Add a Revenue Stream
Promote revenue-generating courses and training material through your LMS course builder. Easily make your online learning material available to external customers for a set price.
Make Learning More Engaging
An LMS eCommerce integration makes the employee learning experience completely seamless and accessible on mobile.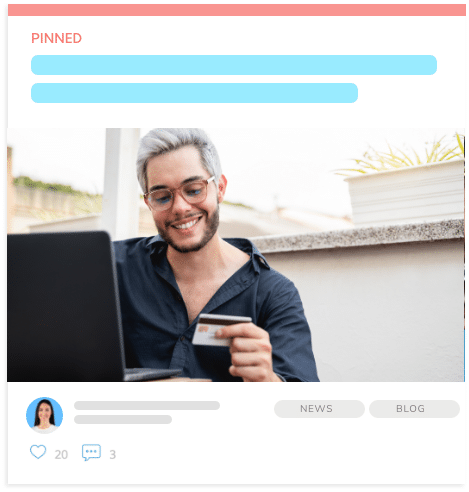 What is eCommerce LMS Integration?
You've mastered how to create courses online, and now it's time to sell your course and enhance your resource pool even more with eCommerce.
LMS with eCommerce gives your organization the ability to collect payments, attach vouchers and promo codes, process employee certification, and even add a revenue stream with engaging courses for professional development. All from the online course platform you know and love.
eCommerce LMS integration helps motivate employees to complete course content and makes it a breeze to budget for your training needs. Provide a more convenient, accessible learning experience for your team.
Makes the Employee Learning Experience Great
Streamline Mobile Learning
An LMS course builder ensures your training benefits from being digital, accessible, and customizable for your frontline employees.
Add More Courses
Instantly expand your resources with courses from external vendors or third-party training or certifications your employees need to succeed.
Easily Collect Payments
An LMS eCommerce integration makes it possible to collect more than simply course fees. Collect other payments from employees for everything from uniforms to fees all in one place.
Enhance Your Learning Management System with eCommerce
ECOMMERCE LMS INTEGRATION IMPROVES EMPLOYEE LEARNING
Provide your frontline team with the courses they need no matter where they are.
In today's digital workplace, it's more important than ever to learn on eCommerce platforms to help make work easier.
The LMS eCommerce integration makes it easy for your team to access the course content they need to succeed from qualified vendors. There is so much material available online that can help your employees learn, enhance their skills and grow their careers. Turning to vendors is a great way to train your frontline workforce when they require different certifications and training.
And an LMS with eCommerce capabilities operates both ways. You can also easily create and sell online courses to other businesses. Whether you're creating general guides or training specific to your industry, you can find an audience for your course materials and sell them for a set price for an additional revenue stream.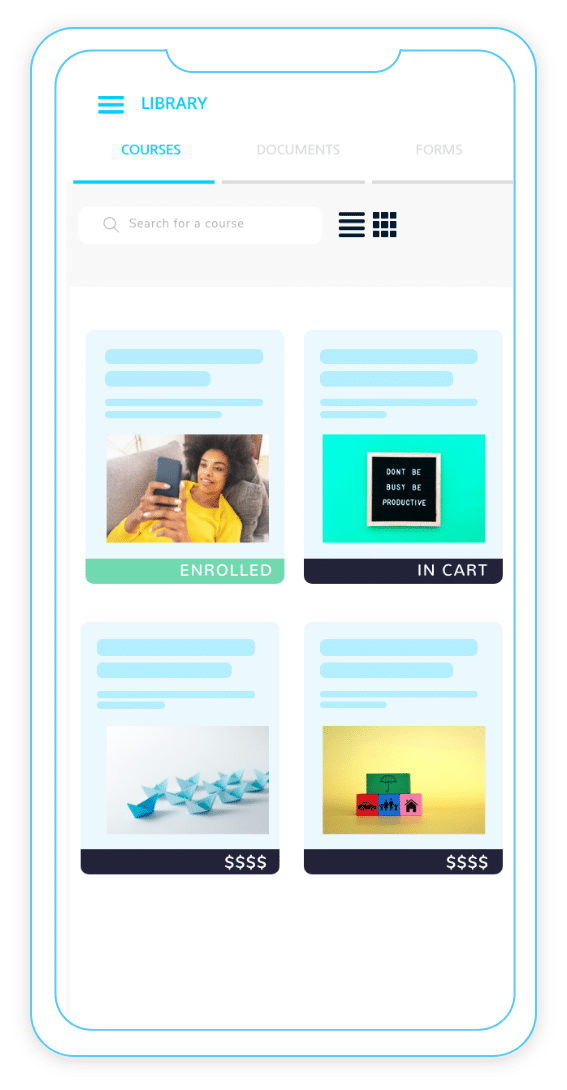 What are the key features to look for when choosing an eCommerce LMS platform?
When choosing an eCommerce LMS platform, it's important to look for features such as customizable branding, course creation tools, payment integration, analytics and reporting, mobile responsiveness, and customer support. Additionally, consider the platform's scalability and ease of use for both you and your employees.
How do I integrate my eCommerce platform with my LMS?
The process of integrating your eCommerce platform with your LMS will vary depending on the specific platforms you are using. Depending on the vendor, you may need to consult with your platform's support team or hire a developer to assist with the integration process.
iTacit's LMS includes a built-in, out-of-the-box eCommerce platform integration so no additional programming is required.