EMPLOYEE APP
Connect your teams to everything work with the best mobile app for employees.
Your digital workplace app for employee communications connects front-line teams and makes their workday easier. It's the ultimate all-in-one internal communication app for employees to be happy, well-skilled, and efficient in their jobs.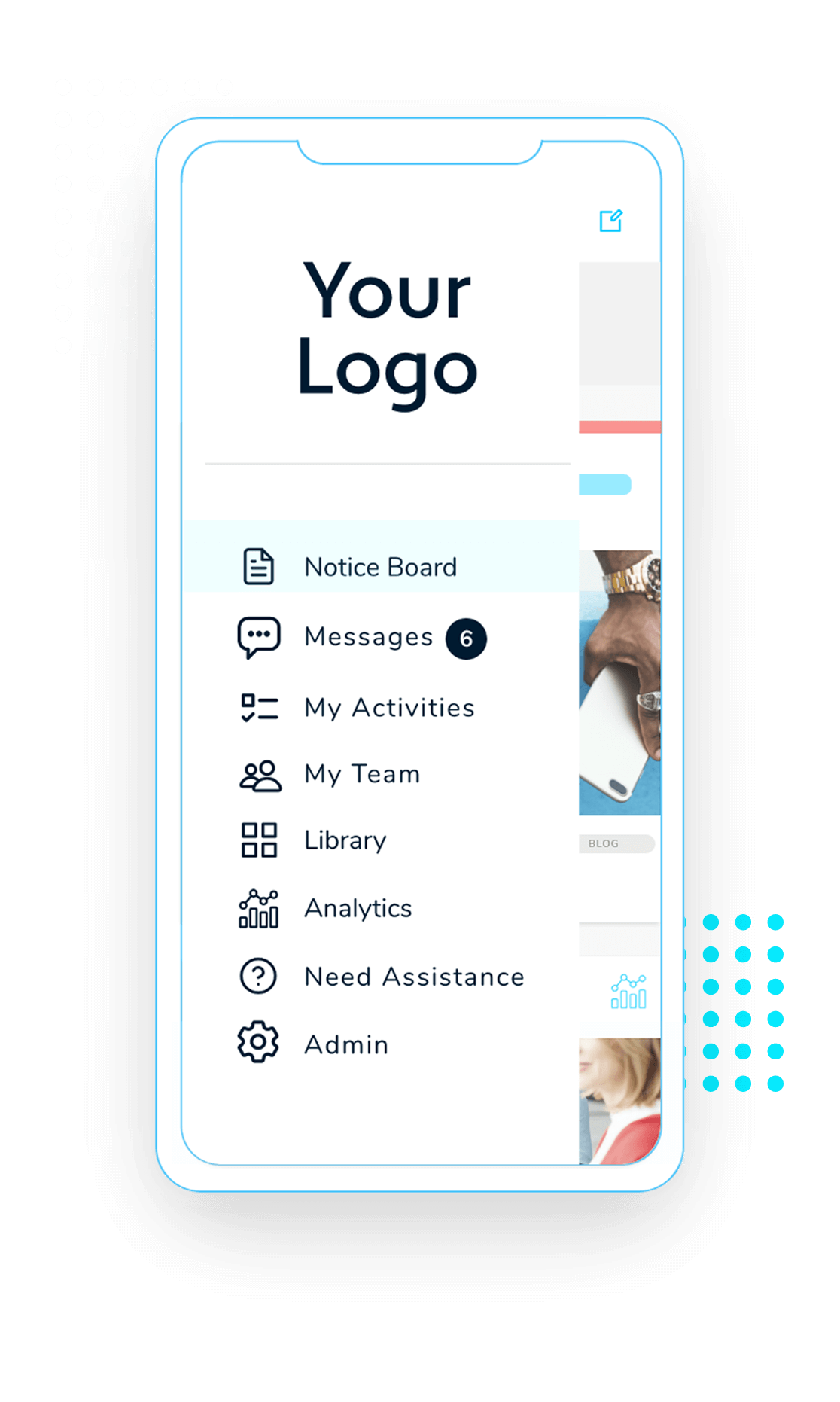 What is an employee app?
An employee app is a mobile application that allows employees to access their company information from anywhere. Whether employees are at work or on the go, it creates a more efficient workflow reducing the need for employees to use multiple devices to access information.
There are several reasons why an employer should consider an employee app. First, it helps employees stay connected to their work while away from the office. Second, the app also makes it easier for them to complete tasks or training at any time. Finally, a mobile employee app improves productivity by allowing employees to access critical information quickly and easily. 
How do you choose the right employee app for your organization?
Employee apps are becoming increasingly popular. They provide employees with access to information that helps them perform better at work, while also helping employers monitor productivity and keep track of employee performance.
There are two main reasons why companies use apps at work: to improve productivity and to provide additional services for employees. Employee apps can help with everything from employee communication to paperless onboarding, so it's important that you find the right fit for your business.
ALL-IN-ONE EMPLOYEE COMMUNICATION APP
Reach your front-line with a single internal communication apps for businesses
Up to 80% of workforces are front-line or non-desk workers. For employers, it's often an inefficient process to implement changes in protocol, track operations, manage HR tasks, or get a critical communication message through to these remote teams using standard messaging apps.
An employee mobile app can help companies improve their bottom line and engage the front-line – and adopting and utilizing an employee app for communications is easier than you might think.
An Employee Communications App Can Help Your Business

Fix Broken Team Communications
Improve secure, two-way employee communications and collaboration in real-time without the challenge of text or email.

Train Staff & Automate HR Tasks
Offer a more interactive, functional alternative to your workforce training with an all-in-one HR mobile app for employees.

Streamline Processes with a Single Mobile App
Digitize any process and any form with a mobile forms and workflows.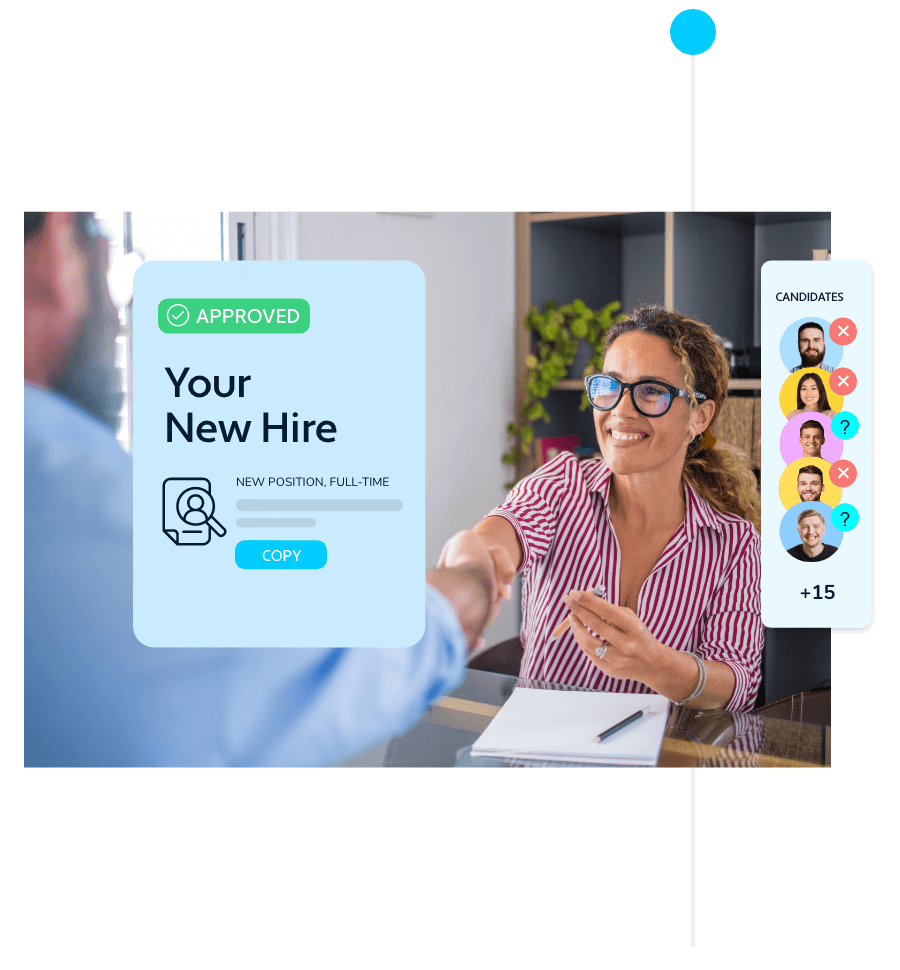 | | |
| --- | --- |
| Career Center | Candidate Database |
Onboarding Task Assignment & Approval
Onboarding Task Assignment & Approval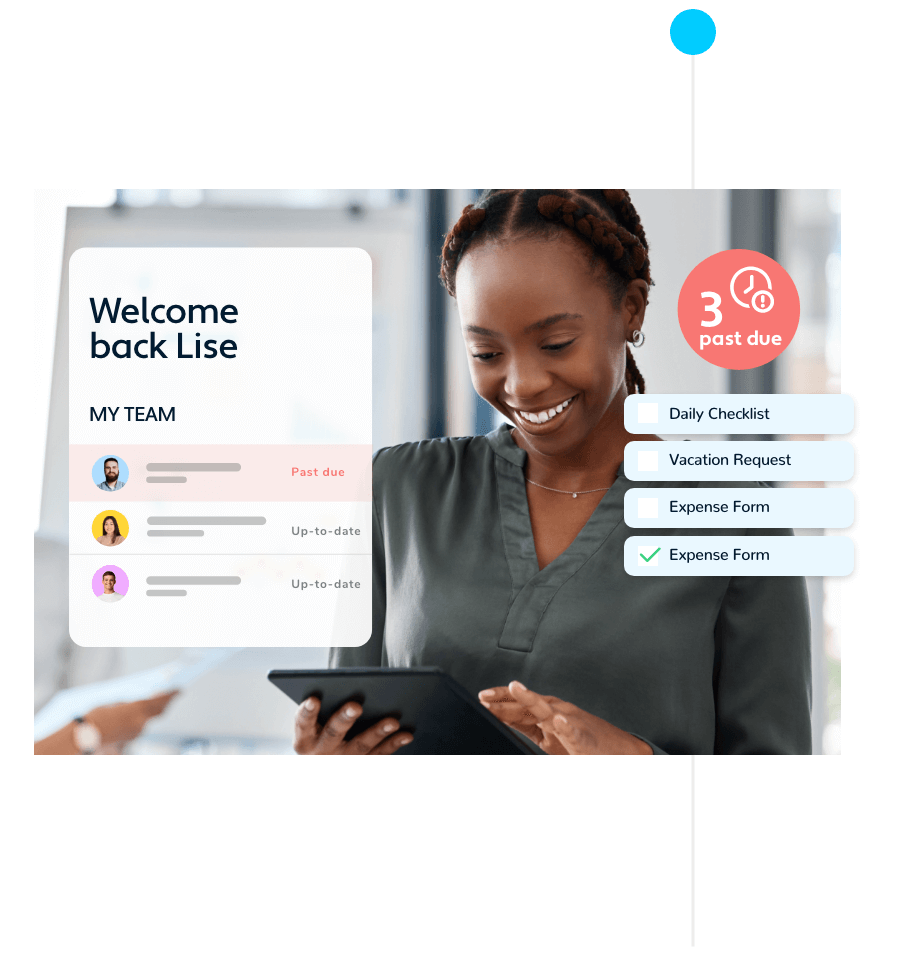 Simplify communications and operational processes.
Need to relay critical messages or manage daily communications more efficiently? Our communication tools eliminate the need for company-wide email systems.
Reach your employees on their own devices and enable access to the information they need.
POPULAR FEATURES:
| | |
| --- | --- |
| Direct Messaging | Role-Based Messaging |
| | |
| --- | --- |
| Role-Based File Access | PDF Fillable Forms |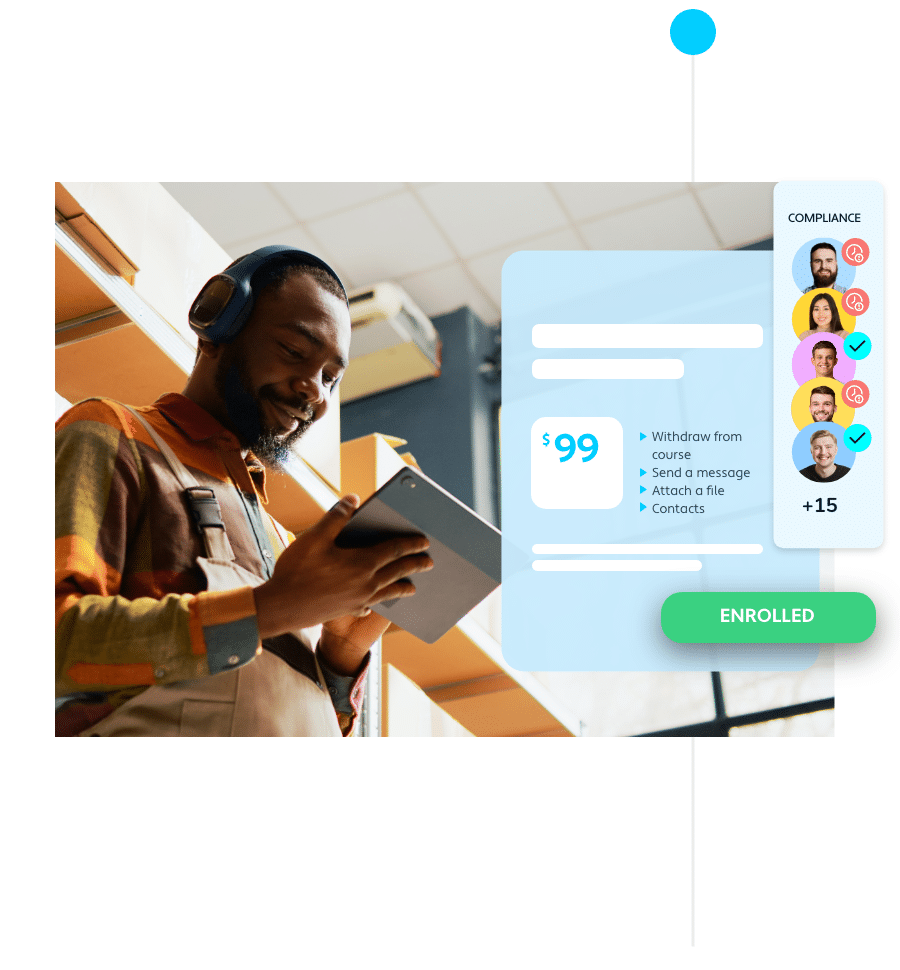 Automate training and compliance with visibility and control.
Training doesn't have to be in-class or a scheduled event.
Design your learning experience, track progress and automate compliance protocols with a suite of easy to use training tools.
POPULAR FEATURES:
| | | |
| --- | --- | --- |
| LMS | Course Authoring | Automated Learning Paths |
| | |
| --- | --- |
| File Viewer / Player | Team Tracking |
Canned And Ad Hoc Reporting
Canned And Ad Hoc Reporting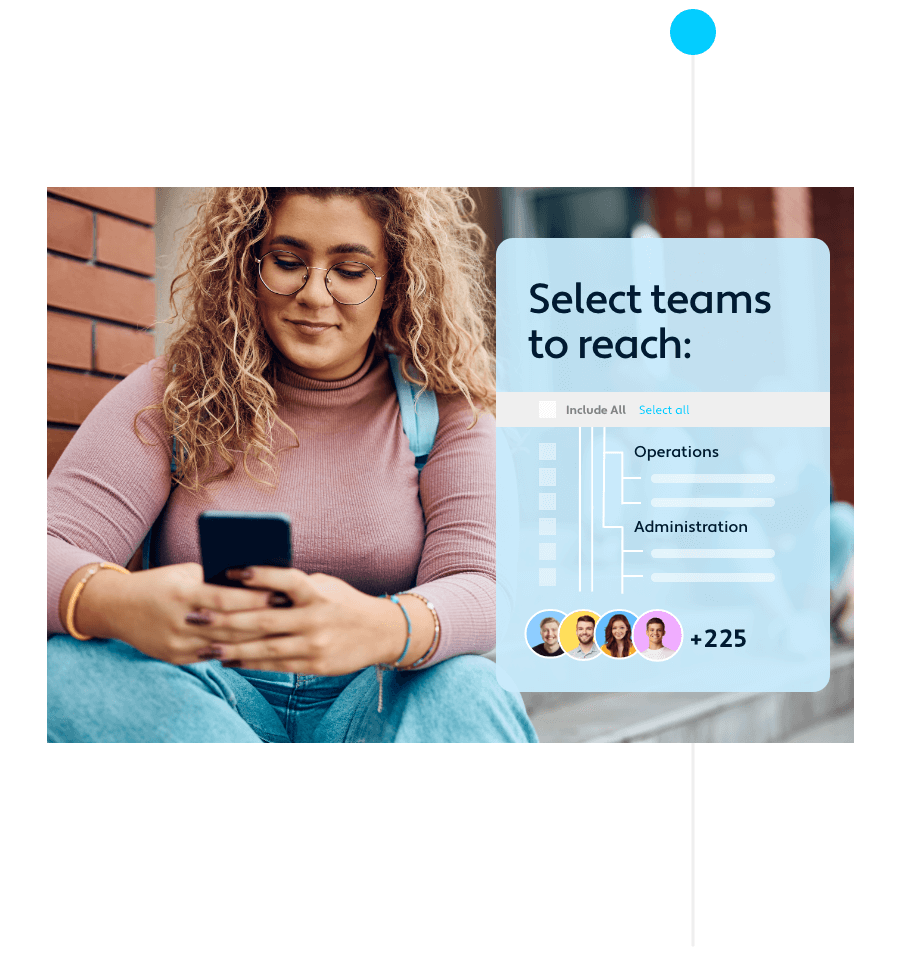 Connect your team and build your company culture across all locations.
Disconnected workforces challenge traditional team-building while social networks like Facebook present security challenges.
Promote your culture and social interaction within a secure,
branded app.
POPULAR FEATURES:
| | |
| --- | --- |
| Notice Board | Social Engagement |
Analytics / Usage Reports
Analytics / Usage Reports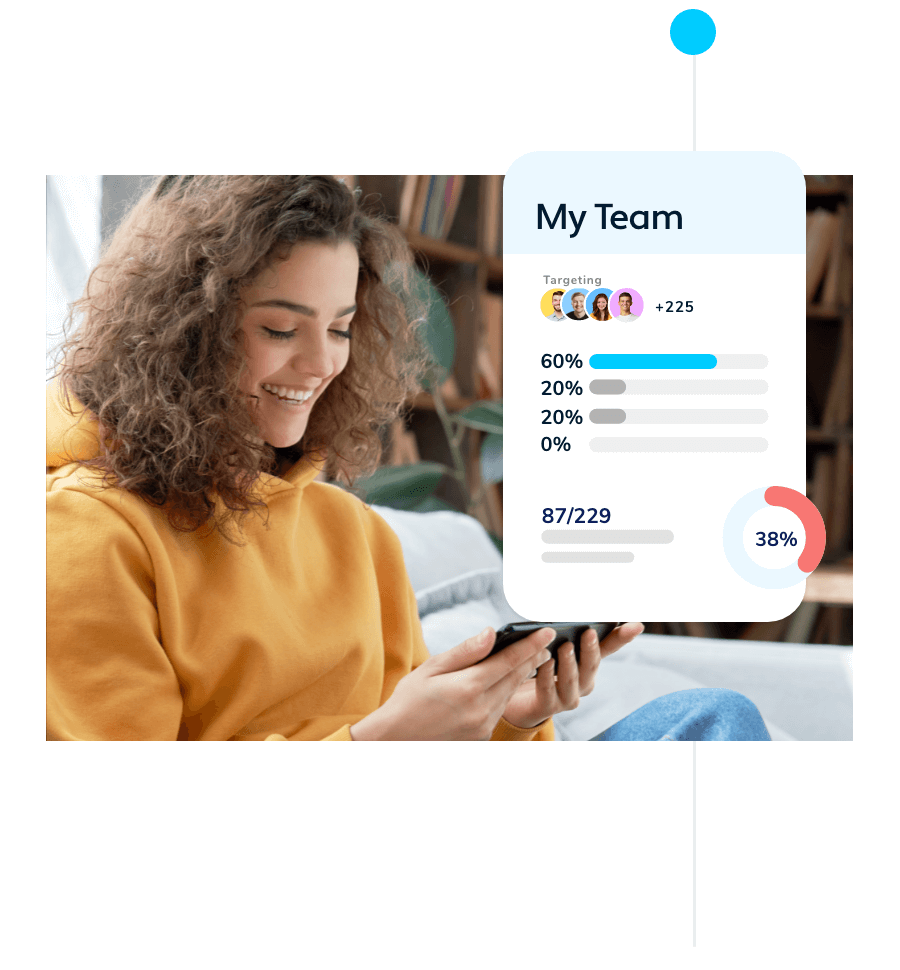 Boost employee engagement with interactive feedback.
Retaining top talent doesn't happen without a committed effort.
Target surveys to specific roles to get anonymous, honest feedback. Improve employee satisfaction and build a better workforce..
POPULAR FEATURES:
| | |
| --- | --- |
| Comprehensive Surveys | Instant Feedback Polls |
| | |
| --- | --- |
| Anonymous Surveys | Performance Management |
BRANDED EMPLOYEE COMMUNICATIONS PLATFORM
Your employee app, your way. 100% configurable.
Your employee app connects front-line employees and makes their workday easier. It's the ultimate all-in-one solution for employees to be happy, well-skilled and efficient in their jobs. Easily share files, assign tasks and connect with your team no matter where they are.
They'll want to put it on their home screen.
Create loyalty and trust for your company brand with a secure, user-friendly digital workplace app . Give employees an app they love, is useful for their role and makes them feel part of a bigger picture. Improve employee engagement with an app they'll want to use.
A single source of truth, under your brand.
Employees shouldn't have to access multiple portals and third party sites to get through their day – especially your non-desk workers. Consolidate everything in a single internal communication app that employees can download directly from the app store.
ADMIN PORTAL & CMS
Total control over every little detail.
You've got the power over your employee app. The power to build forms, publish content, set-up roles and of course, schedule posts.
There's no one-size-fits-all internal communication app. You can tailor your employee app to the needs of your HR managers, team members, and more.
Decide how your content is shared, who can view and comment, all within a robust admin portal. Regardless of how complex your organization is, smart distribution and multi-tenant set-ups let you reach the right audience with the right message.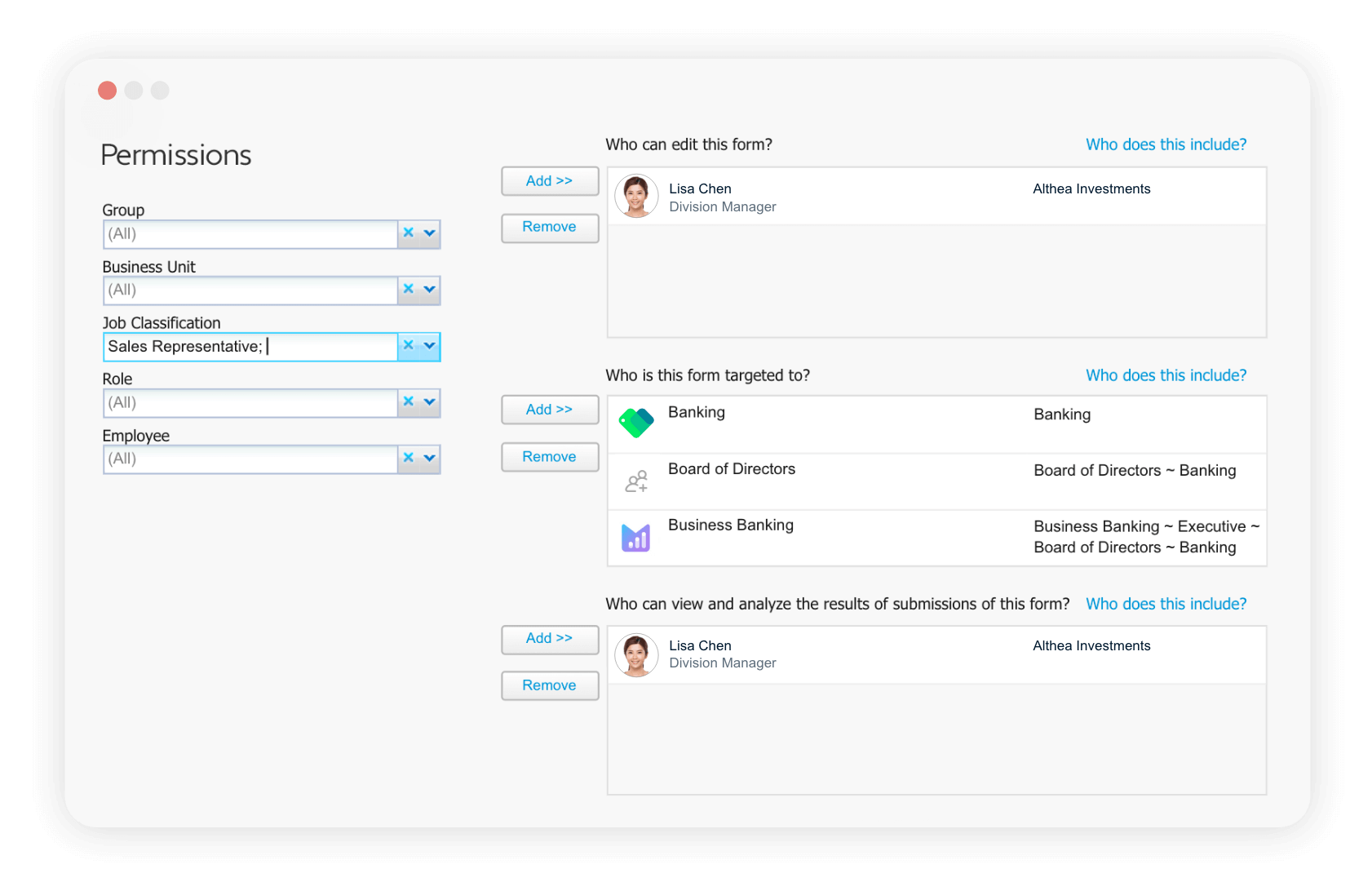 Seamless, cross-device user experience
No need to choose between an employee app or software: It's both.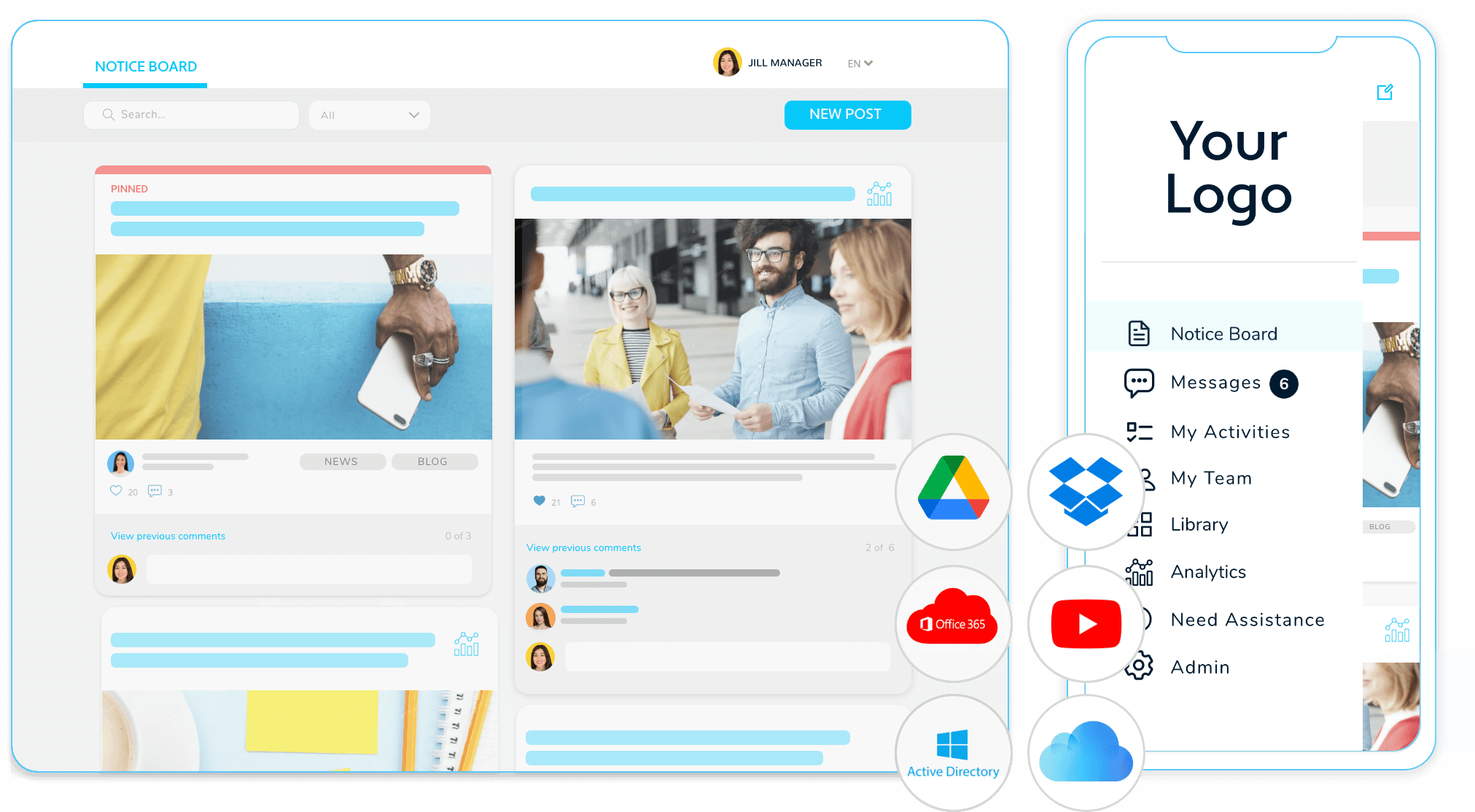 Mobile-first
A slick user experience that just works – like any other app on their home screen.

Web-based Access
Sessions are seamless across any device: Phone, tablet, or laptop.

Single Sign-on
Simplify user log-on with access management for employees.

Integration API
Works with the tools you already use for HRIS, cloud storage and more.
So, what you can do with an employee communications app? Well, just about anything you can think of.
Bite-sized micro-learning
Share news, ideas, photos and videos
Send messages with read receipts
Relay critical communications instantly
Quick access to job-related resources
Find employees & send direct messages
Targeted surveys & pulse polls
Access links or business tools
Create social or interest groups
Automate HR docs & processes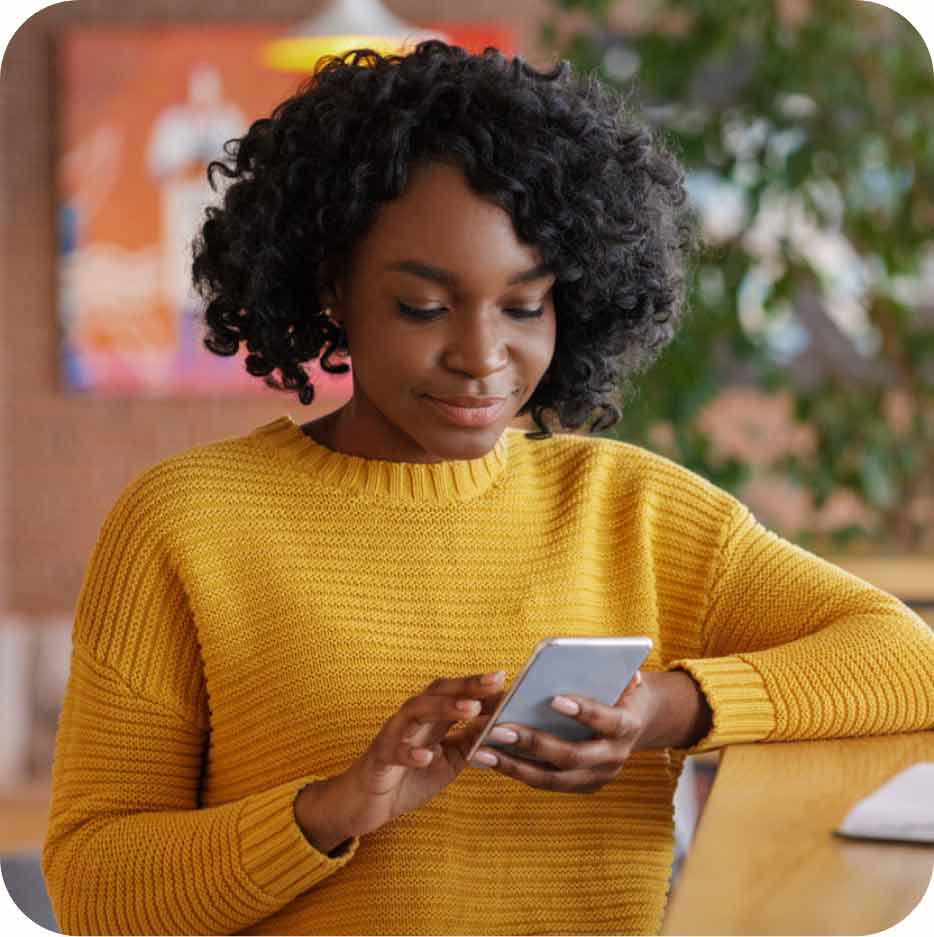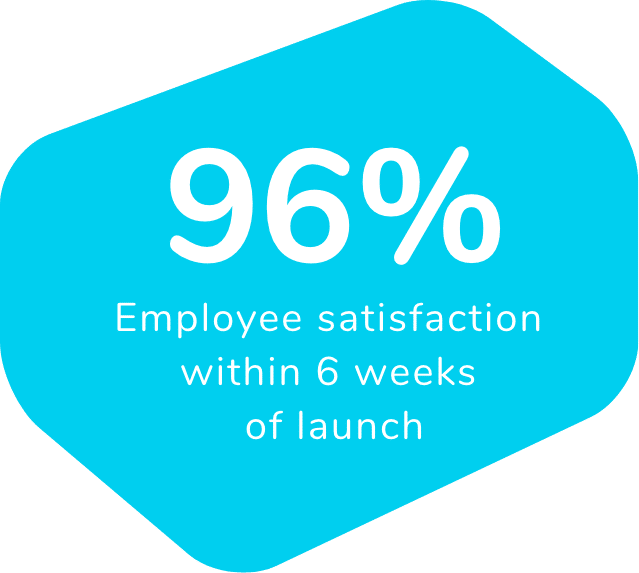 KICK-OFF & ONBOARDING
Get ready for a successful employee app launch.
From training to set-up, our onboarding team will ensure your employee communications app is a success. Need a quick launch? We can get your app for employees up and running in 48 hours so that you can start connecting your team members.
SOLUTIONS
Give your front-line employees the tools they need:
Recruitment & Hiring Tools →
APPLICANT TRACKING SOFTWARE
Employee App →
MOBILE EMPLOYEE HUB
Internal Communication Platform →
WORKFORCE COMMUNICATION
Mobile Employee Training →
LMS AND KNOWLEDGE PATHS
Employee Engagement →
EMPLOYEE EXPERIENCE MANAGEMENT
Social Intranet →
DOCUMENT AND RESOURCE LIBRARY
Digital Workplace Solutions →
AUTOMATED FORMS AND WORKFLOW