EMPLOYEE SURVEY TOOLS
Employee Engagement Survey Tools
Employee feedback is an incredible asset to your organization. The right employee survey tools can ensure you're collecting the right information needed to identify success and areas of improvement to ultimately create a more positive workplace culture.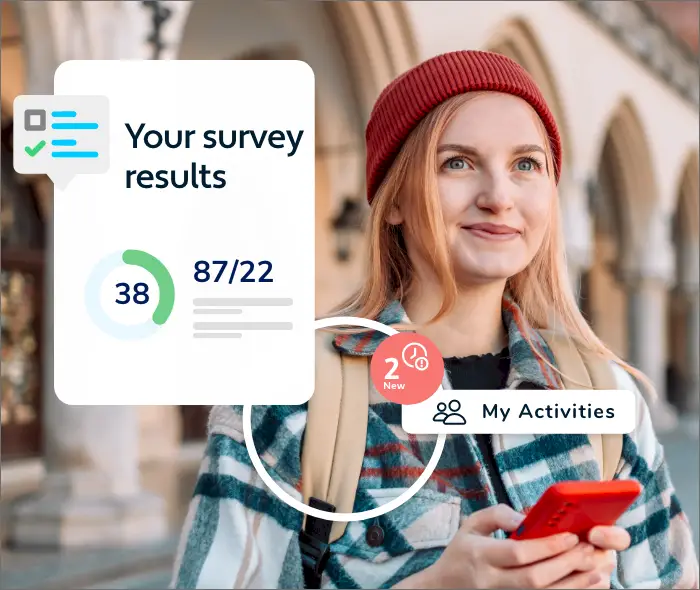 Improve Employee Engagement
Create custom surveys or tailor survey questions to employees to improve engagement. Easily administer pulse surveys and more to make it easy for your team to complete them anytime, anyplace.
Gain Actionable Insights
Don't let your survey results go to waste. Employee satisfaction survey tools can help you turn raw data into actionable insights. This helps your organization improve and ensures employees feel like their feedback is being heard.
Enhance Company Culture
With an understanding of the employee experience, you can identify areas of improvement and address potential problems before they become larger issues. With an action plan in place, you can create a more productive, welcoming work environment.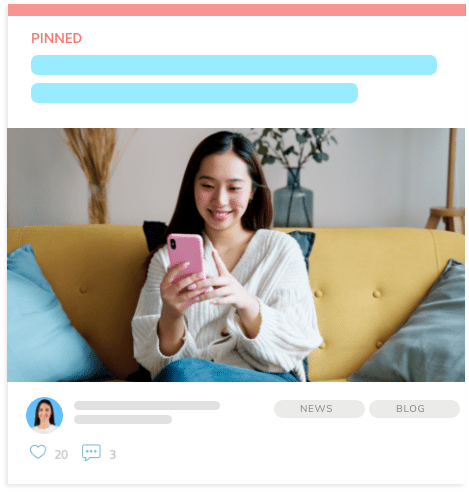 Why Are Employee Survey Tools Important?
Employee pulse survey tools help your organization enhance how it collects and analyzes employee feedback. Too often, organizations can create great survey templates and questions but don't know how to administer them. Others may have a user-friendly survey platform but don't know how to create custom surveys their teams will actually engage with.
Employee survey tools give you the best of both worlds. Not only are you able to create engaging, relevant surveys for your team, but you can seamlessly administer them through a convenient mobile app. By using additional tools like push notifications, you can ensure employees are completing surveys on time and in full so you have the information you need to improve the employee experience.
How to Create a Successful Employee Survey
Employee survey software helps you improve the experience of every employee.
Voice of Employee
Measure what employees feel and want. Voice of Employee (VoE) is one of the only accurate measurements of the current employee experience, so prioritize it with your surveys. Allow them to be candid and have their voices heard.
Transparency
Make sure questions are honest and transparent to get the most genuine and informative responses. Avoid loaded phrases or questions that mark one response as right and the other as wrong. Trust leads to useful and impactful data.
Purpose
Every survey should have a purpose. When assigning surveys and publishing them, put the value or purpose of the action front and center. Employees are more likely to engage with a survey when they know its goal.
Enhance Employee Engagement With Surveys
EMPLOYEE SURVEY TOOLS IMPROVE THE EMPLOYEE EXPERIENCE AND ENGAGEMENT
Mobile is the best way to survey employees.
No matter if you manage frontline employees, in-office teams or a remote workforce, employee survey software is the best way to collect feedback from all of your employees. With employee survey tools, you can ensure every employee completes necessary surveys and collects valuable information.
The experience of a frontline employee is very different from one in a corporate office. Use employee pulse survey tools to tailor questions to each and ensure they can complete it from anywhere, anytime.
Using the results from a series of surveys makes planning employee experiences or employee journey mapping that much easier for every type of team.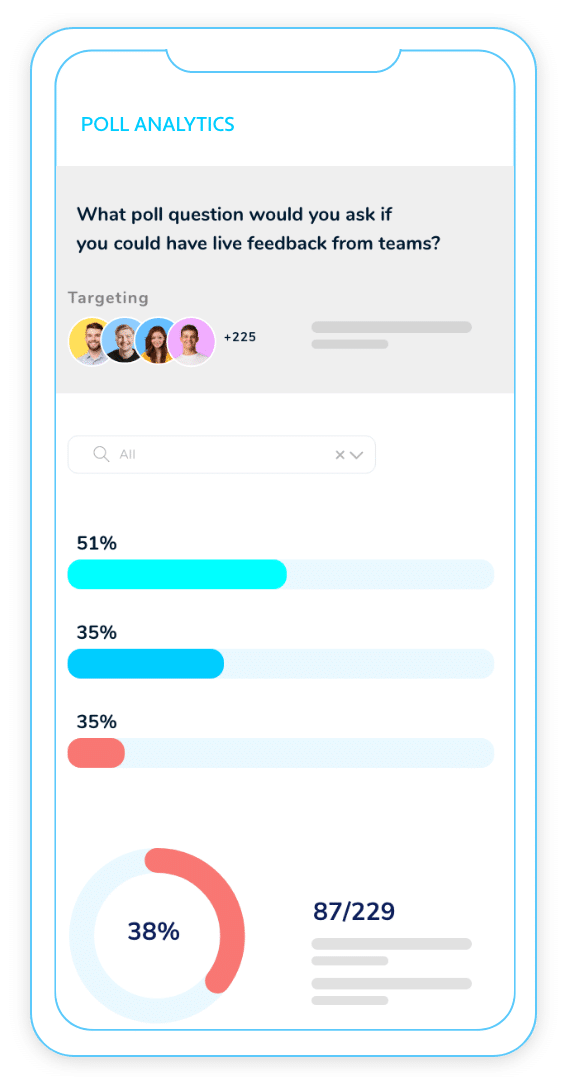 How often should companies conduct employee surveys?
There are several factors to consider when determining how often to conduct employee surveys. One important factor is the size of the company. Smaller companies may be able to conduct surveys more frequently, while larger companies may need to space them out to avoid survey fatigue. Another factor is the pace of change within the company. If there are frequent changes in leadership, policies, or procedures, more frequent surveys may be necessary to keep up with the evolving workplace environment. If the survey is focused on a specific issue or initiative, it may only need to be conducted once; however, if the survey is meant to provide ongoing feedback on overall workplace satisfaction, it may need to be conducted on a regular basis.
It's also important to consider the timing of the survey. Avoid conducting surveys during busy periods or holidays when employees may be distracted or stressed. Instead, choose a time when employees are likely to be more focused and engaged.
What are some common types of employee surveys?
Some common types of employee surveys include:
Employee Engagement Surveys: These surveys measure how committed, motivated, and connected employees feel to their organization and their work.
Job Satisfaction Surveys: These surveys specifically focus on employees' satisfaction with their job roles, responsibilities and work environment.
Employee Onboarding Surveys: These surveys are conducted with new hires to gather feedback on orientation, training, and early interactions with coworkers and supervisors.
Exit Surveys: Exit surveys are conducted when employees leave an organization to gain insights into their reasons for departure and to identify potential areas for improvement in retention and overall employee experience.
360-Degree Feedback Surveys: These surveys gather feedback on an individual's performance and behavior from multiple sources, including peers, supervisors, subordinates, and sometimes even customers. The aim is to provide a comprehensive view of an employee's strengths and areas for development.
Training and Development Surveys: These surveys evaluate the effectiveness of training programs, identify skill gaps, and assess employees' training needs to ensure continued growth and development.
Pulse Surveys: Pulse surveys are short, frequent surveys designed to quickly gauge employee sentiment and collect real-time feedback on specific topics or initiatives.
How do you design effective survey questions?
Creating well designed, effective survey questions is crucial to gathering honest feedback. Effective survey questions are clear and concise. When drafting your survey, avoiding leading or biased questions. Be sure to use a mix of open-ended and closed-ended questions, and test the survey with a small group before sending it out to all employees. It's also important to consider the purpose of the survey and what information you hope to gather from it.
What are some tips for increasing survey response rates?
Some tips to improve survey response rates include keeping the survey short and to the point, offering incentives or rewards for completing the survey, ensuring anonymity and confidentiality, and communicating the importance of the survey and how the results will be used. Additionally, sending reminders and following up with non-responders can also help increase response rates.