Is your office planning to re-open or staying shuttered for awhile? Has remote work been a win or loss for productivity? Let's take a closer look at how remote work – well, works and how micro-learning can be the extra boost your team needs to stay motivated.
Chances are your employees are feeling the same as many of us about remote work. It started out being fun and exciting. Then, issues start to arise…
Maybe their technology doesn't want to cooperate; maybe their interest in work is divided; maybe their motivation is waning. And then there's always that (very difficult to ignore) call from the snack cupboard.
If you identify with that side of things, you'd be surprised to hear that working from home typically boosts productivity. Especially when it's paired with microlearning.
The data behind work from home productivity stats and microlearning:
Beyond the expected stats and typical headlines, there's more than you'd expect at play here.
A Stanford University professor published a two year study reporting on the inner workings of remote employees.
Here are some of the high points:
Remote workers typically log in more productive time, as they don't have to worry about commuting, arriving late or heading home early.
Fewer sick days, paid time off and less break time all came without being asked for: Employees just found it easier working at home.
When they do come back into the office, they're even more productive than before. A healthy mix is ideal.
To follow this up, a more recent study builds on these compelling findings with hard numbers:
Remote employees put in roughly 17 more days of work annually compared to their counterparts
They concentrate more easily, with fewer distractions allowing them to be more productive: 39% of WAH (that's work at home) employees avoided their next task while 56% of office workers preferred to dodge their agenda.
The challenges of remote work are real:
Many will instantly counter any compelling findings with thoughts like 'it can be lonely, though' and 'how will you know if they're even getting work done?'.
Here are some of the most common challenges for remote workers:
Organizing the day, making the transition and sticking to a schedule.
Managers also struggle.
I recently spoke with an HR consultant that explained how teams are struggling with micro-management. Mid-level managers often rely on visual confirmation that employees are working and productive. That confirmation is now out of reach.
How to restore, maintain, or even boost productivity during remote work:
There are a few things you can do to keep your team on track. LinkedIn Learning suggests regular (virtual) meetings with your team and proactively reaching out to share not only work updates but also to keep teams aligned with their role and organization's mission.
Microlearning presents another often overlooked opportunity to put your teams on the right track.
Learning doesn't have to take the form of seminars and classes – for professionals, that one exciting online course can be the thing that helps them chew through the day more quickly (and productively)!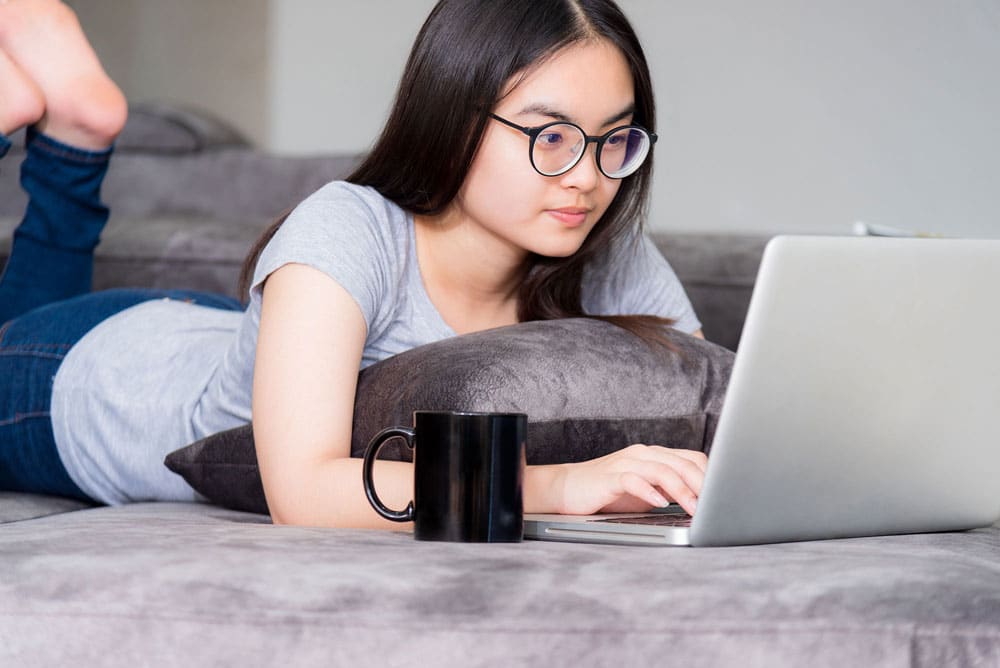 Microlearning is emerging as a best practice to implement continuous training in the workforce. Our attention spans have gone down, our days are busier and – importantly – technology has caught up.
Microlearning means even ordinarily remote front-line workers can learn on the fly in small doses now from the comfort of their very own smartphone!
How microlearning at home can push productivity to new levels
Remote employees need to feel connected and relevant within their team and organization.
There's a reason why remote work and eLearning have been trending up almost alongside one another over the past few years – they bring value to both employees and employers, drive productivity and more.
Here are a few of the things microlearning can do for your at home workers:
Professional development: You're boosting the value of your employees by investing in their training. Encourage them to pitch new ideas based on what they've learned!
Working together: Learning greases the wheels of the feedback loop between coworkers. We all love to share what we've recently read or seen, and training is no different.
Maintain a routine and normalcy: Constantly developing new skills and studying content directly relevant to what you do for work should keep anyone on track. Plus – maybe you'll see some new ways to be more productive and then share it with your direct reports.
Ensure that course content is up-to-date

– especially when you're working with an inhouse LMS suite.
Beyond these points, there are plenty of research pieces and articles that can help you decide whether or not microlearning is just what your remote workforce needs!