Our previous post dug into defining change fatigue, highlighting identifiers such as stressed, disengaged workers and a 'snowballing' list of new tools, initiatives and channels.
It left off, posing the question "do you feel like you're facing change fatigue in your workplace?"
If you answered yes, you've doubtlessly been wondering how to go about remedying your dilemma.
70% of changes miss the mark and cause change fatigue
Now – as communicators, we're tasked with re-engaging our coworkers and establishing a minimalist approach to change management.
Shouldering the blame for lackluster results on other employees, then, is not the right move: Kotter International gleaned from their research that up to 70% of change efforts fail, with ineffective management or implementation being the root cause.
Other important takeaways from the same article are:
Implementation is unfocused, with hectically-mapped out steps causing noise.
Leaders launch more than one change at once, with all of them cluttering already-busy workloads.
Reacting to new trends before completely seeing one change through is detrimental for many employees.
Clearly, change management begins to get muddled at the very top.
Internally, communications normally serves as the conduit for these changes. So, again – as communicators – we're the ones who need to champion engagement, and think of a way to keep things crystal clear all the way to the finish line.
The dangers of top-down management
Top-down management is the most popular path to take when tackling change implementation. Gartner concluded that, worldwide, more than 70% of companies use this method.
Remember that stat about change efforts we discussed a bit ago?
Some basics about top-down change management:
Plans are made at the top: executives, management or leaders come up with the ideas.
They're then dispersed to the rest as the one source of authority – through the communications practitioner – and everyone just ends up with more to do.
Gartner's surveyed companies were mostly organized 'vertically' meaning there were static, relatively straight chains of command.

This approach used to be the practical answer for these situations.

Top-down structures have been popular thanks to predictable market and competition trends.
Now, conversely, nothing seems to be predictable. Change is a constant, and internal communications workers have to adapt to be more flexible.
Share, listen, and adapt for optimal employee engagement and less change fatigue
One of the areas of work that is harmed most directly by change fatigue is, of course, engagement.
To head this off: rather than funneling changes down, which creates situations where employees boot up their day to find the unexpected (and unpleasant), start on the floor – with them!
Pivoting to an approach that advocates sharing and listening before adapting would allow for everyone to become change leaders, focusing on the people – your employees – who will sustain the changes through implementation to the end.
With 73% of organizations anticipating changes to ramp up in frequency, it's time to be proactive and transform into a more open workplace.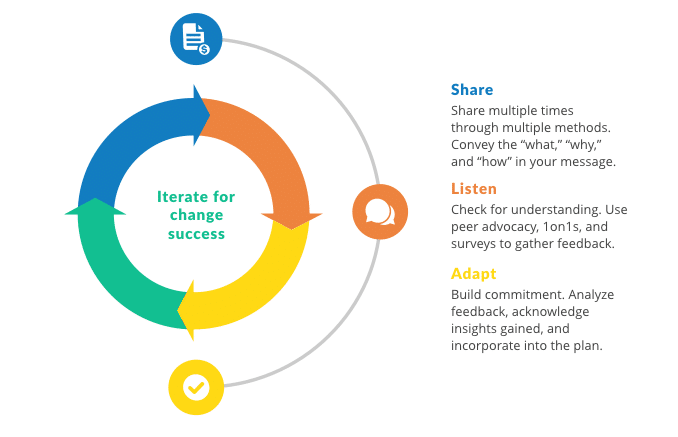 (Gartner)
Opening up change initiatives
Research has found that open-source change boosts success rates by almost 25%, while shrinking the implementation period by 33%. This all translates to approximately 12 hours/week saved for each employee; less time is spent navigating and understanding changes, allowing them to focus on using the change to improve efficiency and their overall workload. 
Start here:
First, share with everyone. Convey the existing plan, treating it as an open discussion instead of a message.
Then, listen. Essentially, 

everyone

will becoming change managers. Ownership extends to the whole staff, meaning that personalization should be anticipated and embraced.
After this, adapting is crucial. Adapt to the new 'co-creator' role of each employee. Empower them with champions – co-workers who serve as points of contact and knowledge – and change management will become an autonomous part of everyday life that is both crowd-sourced and efficient.
Hand the champion, the employees' knowledge bank, the tools they need to facilitate sustainable change: constant feedback from one-off polls; continued education through training modules; and insight from analytics, to name a few.
Change is now necessary, so it should be prioritized. Allot time, separate from daily duties, for solely becoming well-versed in new tech and solutions. See it through immediately by starting the conversation and getting change decisions rolling.
"When executives create a strategy… employees live with the solution, it can disrupt team dynamics and create an "us vs. them" mentality. There is a lack of shared ownership between strategy and execution."
– Ken Perlman, Engagement Leader
Open up change management by sharing, listening and adapting. With this cycle, and the help of champions, you'll create this shared ownership.  Feedback will travel in a more organic and useful way, to everyone, and the end-users will get to have the results they want, with employee engagement naturally being strengthened.
Change fatigue takes a backseat when resistance gets swept away by open change.
More isn't always better: using a branded platform that offers surveys, polls and messaging  gives staff of all levels a hub to connect, share and improve change management.