Work smarter and faster with a paperless checklists and forms app to automate any process.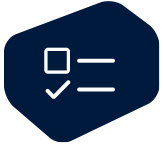 OPERATE
Paperless checklists and form automation tools:
Companies collect a lot of data from front line workers. Manual data collection is a time consuming process with excess paperwork, scanned documents, Excel spreadsheets, or no process at all. iTacit's checklists and forms app uses mobile and web-based forms and checklists to simplify the process and make that information accessible to the correct teams for analysis.

 Built-in Form Builder
It's never been easier to collect data from staff. Build forms in minutes, whether you need a simple checklist or multi-step form. Start from scratch or adapt from our template library.

Signatures & Extras
Forms are built to be mobile-first but are accessible from any desktop. Regardless of the device, employees can click to upload a photo or sign with their finger on-screen.

 Role-Based Targeting
Like all of iTacit's employee solutions, forms can be targeted to any user by location, title, group or seniority. We link directly to your employee database – no manual updates needed.

 Branded Employee App
Don't send employees to multiple apps and portals. Launch an app with built-in forms, messaging, training and everything else they need to be efficient in the field or at the office. Branded to your specs without custom coding.

Task Management
Frontline managers can manage their team with task assignment, reminders and workflows – not just for forms and checklists, but also critical documents, training and more.

 Form Automation Workflows
Robust form automation uses time-based triggers or logic for form distribution and approvals. Advanced forms can have multiple sections, each targeted to unique roles for input or sign-off.

 Analytics
Use forms as compliance to track completions and sign-offs, or simply track employee usage analytics to better understand where processes could be improved.

 Data Export & API
Put employee-generated data into context across the organization. Track and share all form submission data using iTacit's built-in reporting tools, export to Excel or integrate with BI tools for full analysis.
Ready to transform your operations with paperless checklists and a form app? Let's talk pricing.
A platform for every disconnected front-line employee.
From a single platform, iTacit puts complete visibility and management control at your fingertips.
It takes a great platform and great people to create a productive workplace and better employee experience.