Employee engagement isn't all about tactics, numbers and strategic internal communications. Sometimes, it's more about having fun and letting your people get creative with employee-generated content.
This can come through in the form of videos that, while following a script, show the personality of each team member. Or, maybe some of the staff want to let their artistic side out.
With companies needing to communicate to external audiences and internal crowds both, employee-generated content (EGC) can do everything from increasing brand loyalty with testimonials to selling art at an exhibit.
Here are 3 of the ways encouraging employee-generated content makes your employees grow and be more engaged.
1. Employee thought leadership
When you want to learn about something, one of the first steps you'll take is searching up what the experts are saying.
These experts—thought leaders—are a great source of inspiration and information. Aspiring hockey players, for example, will look to what Connor McDavid has to say and monitor what he's doing on the ice.
For a professional in the tech world, thought leaders like Brian Solis could be who they're keeping tabs on.
Good news: Your employees can be thought leaders too! They're the ones who are doing the work, who are interacting with the product(s) and getting a ground view of what everyone else in the industry is up to. Just like Mr. Solis—who started out as a programmer and database architect—they know their stuff.
Katie Levinson, Head of Product Marketing at Handshake, made a great point on a piece she published on LinkedIn:
Developing thought leadership is beneficial for employees… Employees who are encouraged to share content and build thought leadership gain greater clarity of the company vision and a greater level of industry knowledge. They also can build their personal brand in tandem with the company brand. All of this leads to employees who are more knowledgeable, more engaged, and more likely to be good brand ambassadors.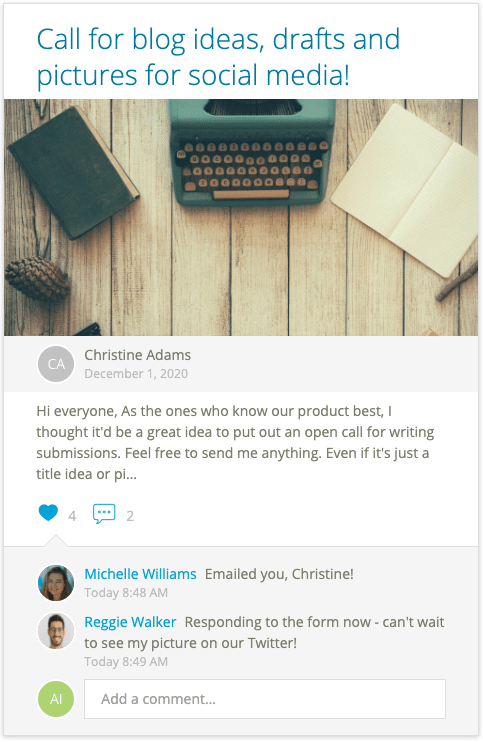 A quick post can let everyone know that there are content creation opportunities
Encourage the growth of thought leadership-necessary skills by giving your people the opportunity to write. Maybe this looks like intranet posts, or an open call for social media submissions.
Helping your employees develop into engaged thought leaders helps across the whole business, too, with Edelman reporting that over half of companies' decision-makers pick a product based off of a company's thought leadership-level content.
2. Employee creativity
Creativity leads to innovation!
Dreaming up ideas in a brainstorm lays down a template to take action and turn those thoughts into results, so making your workplace creative is a step towards being a better one.
Google's old '20% rule' boldly positioned employee creativity and 'side projects' as invaluable parts of a business. Giving everyone the flexibility to dedicate almost a quarter of their time towards passion projects, Google-related creative pieces and anything else they thought of as their brainchild was previously unheard of.
Famously, this philosophy churned out household names like Gmail and AdSense. And other companies like Twitter and Slack started off as creative passion projects, too!
Now, creative employee-generated content doesn't need to be restricted to Slack-level ideas. It can be more along the lines of desk art or murals—like Zappos does at their renowned Las Vegas head office.
3. Teamwork, communication and collaboration
Being able to openly share thoughts and ideas is one of the main things employees look for in a workplace.
Employee-generated content is a natural fit for this: Getting an opportunity to write copy about the work they do or record a video on a product they helped build is an excellent way to encourage content development in-house.