iTacit admins now have even more options for employee training content. Using Easygenerator, creating, sharing, and updating e-learning content is faster and easier.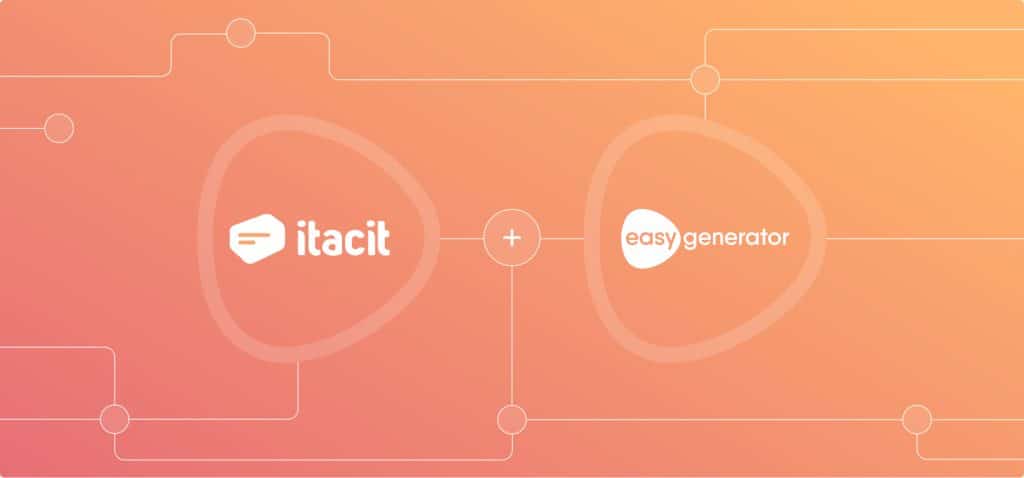 Fredericton, New Brunswick, Canada – March 8, 2023 – iTacit, the award-winning employee training and employee experience (EX) platform for front-line teams, announced its partnership today with Easygenerator, the leading course authoring tool for Subject Matter Experts to digitize learning content. With this new integration, iTacit administrators have even more options to create and publish eLearning content quickly and easily.
"The landscape for employee training and upskilling is changing. Central L&D departments can't keep up to the demand for up-to-date digital learning content and companies want more choice for course authoring that suits their needs," explains Luke Megarity, iTacit President and COO.
iTacit helps managers connect front-line teams with training, communication, digital forms, and automation workflows. The all-in-one software includes a built-in iCourse authoring tool. Customers opting for iTacit's new Easygenerator integration can now augment their employee training with courses created by their in-house Subject Matter Experts.
"Our partnership with Easygenerator is yet another integration that delivers value for front-line teams and their managers. This is another step towards our vision for the future of work and a seamless front-line employee experience," says Megarity.
With Easygenerator you now can:
"Partnerships like this one with iTacit are extremely important for Easygenerator to continue to deliver on our promise to provide the best solutions for our authors."
– Kasper Spiro, Chief Learning Strategist, Easygenerator
🚀 Create your eLearning in Easygenerator
Create your eLearning course quickly and easily in Easygenerator, then head to the Publish tab to download your SCORM package. This SCORM package will include all your course content such as title, description, thumbnail, and all text, audio, and video content you've created. In iTacit, you can upload this SCORM package to see your eLearning course which is ready to be shared with your learners.
🚀 Push training to your employees in iTacit
When your course is ready, target employees based on their role, department, location, or specialization. iTacit's endless segmentation and targeting options publishes courses to the right employees within a convenient, user-friendly training system.
🚀 Check course completion and compliance reporting in iTacit
You can check the completion of your Easygenerator courses and learning analytics directly from your dashboard in iTacit, thanks to the seamless integration between the two solutions.

Additional Resources:
About iTacit
iTacit is an award-winning employee experience platform with hundreds of thousands of users globally. Whether teams are on the front line or in the office, iTacit increases compliance and makes work more efficient. Implementing automated forms, workflows, training, messaging, and resource sharing into a single access hub, iTacit is revolutionizing how employees connect to critical tools, skills, and the rest of their organization, wherever they are.
Visit iTacit at www.itacit.com, or connect on LinkedIn or Twitter.
About Easygenerator
Easygenerator is a fast-growing and award-winning company that helps subject matter experts create digital learning and performance content. Having SMEs create this content is faster and cheaper than when a central (learning) department produces it. But more importantly, it is the only way to keep this content up to date. We call this Employee-generated Learning.