With Jackie McLean, B.A., M.Ed
Instructional Designer & iTacit Customer Success Specialist
I have worked in eLearning and corporate training and development for a decade, and prior to that, I worked in non-traditional education and professional development. Here is what I see happening in eLearning from my perspective.

Accessibility and Flexibility of eLearning
The pandemic has had a huge effect on almost all industries, but it has affected the eLearning industry even more so. Not only are more people working from home than ever, but more people are also training from home.
Companies that have adopted eLearning for training and professional development have seen employee productivity increase because employees have the choice of when and where they complete their training. This has had an especially profound effect on the healthcare industry, where our healthcare providers are often spread very thin with increasing patient loads and regularly changing public health regulations. eLearning makes it possible to roll out training to a large group of employees in an efficient, cost-effective, and easily managed way.
Centralization of Training and Certification
eLearning platforms (like Itacit) also have built-in ways to keep track of compliance for training and certification purposes. The ability to centralize this record-keeping within a Learning Management System (LMS) improves productivity and reduces human error on the administrative side and also makes results easily accessible to management.
Efficiency of eLearning in Corporate Training
eLearning has had a major impact on the corporate sector by taking 45% less time than traditional in-person learning (eLearning Industry). This means employees spend less time away from their job tasks and/or are not required to do training outside of their normal work hours. It also means lowered costs on things like instructors, venues, transportation, and logistics. It also means the same training can be consistently offered to employees and accessible to them after it is completed so that they can review it and refresh their understanding. I'm seeing this used extensively in situations where employees are squeezing in a few minutes of training here and there in their already busy schedules. The fact that they can return to the training at any time means that they can refresh their skills, return to content that they may have struggled with, and use the material as a reference.
Improvement in Employee Productivity
The American Heart Association has recorded a 20% enhancement in productivity in employees who have acquired relevant skills from eLearning. I have witnessed this myself across other industries, especially in cases where those skills were previously acquired through one-on-one training with a colleague. Not only does productivity increase for the trainer, but the trainee has the benefit of the exact same training as every other employee in that role, and they have the flexibility to focus on areas that may need attention. They can also blend their online training with the real-life practice of skills, and advances in interactive eLearning technology mean that employees can actually simulate many hands-on tasks in a virtual environment. Employees have the ability to choose when and how eLearning fits into their day-to-day jobs and gives them autonomy on how to balance their workloads while still advancing their training.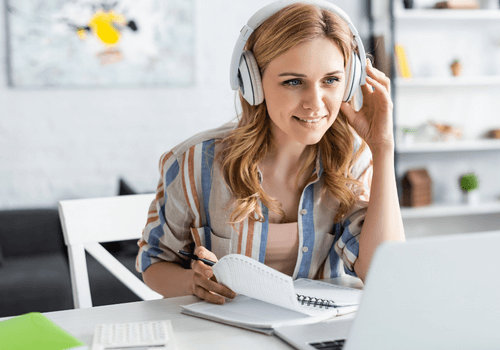 Advances in eLearning Technology
Every single day, advances in AI technology and eLearning products are vastly improving the quality of training that can be produced. Oftentimes, training is produced in-house without an extensive budget or even expert resources. In many cases, the subject matter experts are being asked to develop content themselves, and products like EasyGenerator, Synthesia, Chat GPT, and iTacit's iCourse are making it possible for those without any instructional design experience to develop functional and engaging eLearning.
Just in the time I have been in the industry, I have seen eLearning go from slide-based training (primarily text and limited image) to dynamic and interactive multimedia training featuring audio and video and even virtual simulated environments and augmented reality.
As technology continues to advance, I predict we will see more virtual reality training environments and more tools that will continue to allow those without any instructional design experience to develop functional and engaging elearning.
If you want to learn more about eLearning's impact on employee training and professional development, let's talk.