The future of Learning Management Software is mobile. As portable devices continue to become an increasing part of daily life, employee training will be centred around smartphones and tablets.
L&D leaders should take advantage of the educational opportunities provided by mobile eLearning. In this article, we'll explore the pros and cons to determine if it's the best fit for your employees.
What is mobile eLearning?
Before we get into the mobile side, let's first define eLearning. eLearning is training that is completed by users on a digital device, as opposed to traditional in-person training, including online learning and online courses.
Mobile eLearning refers to eLearning that's accessed on a smartphone or tablet, through mobile apps or browsers. Mobile learning is completed from anywhere. At home, in the office, or even on the go. Studies have shown that mobile learning is as effective, or even more effective, than traditional in-person training.
Is m-learning the same as mobile learning?
You may come across the terms m-learning or mLearning. Fear not! They're just synonyms for mobile learning and mobile eLearning.
We use the terms interchangeably, with a preference for mobile eLearning or, simply, mobile learning.
What is social learning?
In the L&D world, social learning refers to training and skilling that is done through peer-to-peer interactions. With eLearning, these interactions take place on digital workplaces, LMS platforms, and employee communication tools.
Social learning is a great way to create engaging training that helps connect learners throughout an organization. When it comes to eLearning and mobile learning, discussion forums, chats, video calls, employee social media, and intranets are all great tools to boost social learning and encourage collaboration.
Advantages of Mobile Learning
As mobile eLearning can be accessed anywhere and anytime, on a range of devices, there are many advantages. Mobile devices allow for flexibility and ease of use, and offer a certain familiarity for users.
Let's take a closer look at the benefits of mobile learning.
Accessibility & flexibility for teams
Probably the biggest advantage of mobile learning is the accessibility and flexibility. Anyone with a smartphone or tablet can access their training from home, work, on the road, at the gym… literally anywhere!
This type of flexibility is impossible with traditional, in-person training. Learners save time and energy by being able to complete their training on their own time, at their own pace. That's called asynchronous learning.
No more traveling. No sleeping in hotels and stuffed into conference rooms. Mobile training is truly the most flexible form of training.
Accessible training also means that it's more inclusive. For users with disabilities, lack of transportation options, or people in remote areas, mobile eLearning offers a solution to meet the needs of everyone.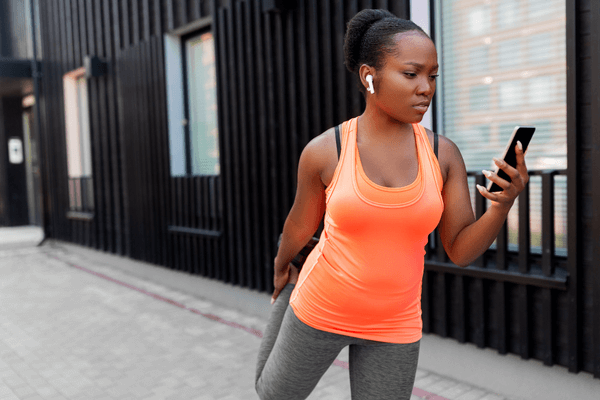 Ease of content updates
With mobile eLearning, users benefit from the same intuitive ease of use as their favourite smartphone apps. Everything is right there, at the swipe of a finger.
When new training content is available, or changes are made to existing material, mobile learning platforms are automatically updated. That means every user is accessing the same, most up-to-date learning materials.
Easy to build training content
Within mobile eLearning, the best LMS platforms have intuitive apps, responsive design, and course building functionality. That means trainers and L&D teams can easily build training content within the platform that is automatically formatted and ready for roll-out to learners.
Courses designed directly within the mobile learning platform work seamlessly, with fewer errors. New training material and updates get into the hands of learners faster, making sure your employees have the content they need.
Training engagement
Maximizing engagement is one of the most important tasks for learning and development leaders. How can you make training fun and interactive?
Gamification is an amazing way to make eLearning more engaging. And within a mobile learning app, integrating gamification is easier than ever.
Things like in-course quizzes, puzzles, polls, trivia, and head-to-head battles can all be easily included inside a mobile eLearning course or module. You can even develop a point or reward system to encourage some light-hearted, healthy workplace competition.
Low cost of employee training
Traditional in-person training has many costs associated with it. Room rental, travel, and staff-hours lost to their primary work, to name a few.
On top of that, there is the human cost of in-person travel that can be significantly reduced with mobile learning. Learners can choose to perform their training when and where they please, giving them more flexibility to spend their time doing the things they love in their spare time.
eLearning, and especially mobile eLearning, will save your organization money and allow learners more time to focus on their jobs while maintaining a healthy work-life balance.
Disadvantages of Mobile Learning
We wouldn't be doing our due diligence to ignore some of mobile eLearning's disadvantages.
Mobile eLearning is a wonderful tool for organizations, but teams need to be informed about when it's appropriate to use, and when classroom learning is a better choice.
Let's take a look at some of mobile eLearning's less positive points.
Employee distractions
Smartphones are loaded with distractions. Apps like TikTok and Instagram are designed to keep mobile users hooked. Pile on notifications from emails, text messages, and calls, and a smartphone or tablet can make concentration a challenge.
When using mobile eLearning, the temptation to switch over to a favourite mobile application or web browser is tempting.
There are certainly methods to help mitigate app switching and distractions. The best thing L&D teams can do is create engaging learning content that encourages and motivates users to complete. On top of that, time limits on course modules as well as gamification/quizzes will encourage concentration.
Training without live social interaction
Aside from integrating live videos and live chats, mobile eLearning will not have any live interaction for students or instructors. That means instant feedback, live questions, and real-life dialogue is usually not possible.
For some types of training, there is no replacement for live social interaction. A hands-on, interactive learning experience provides an extra level of tactile learning. In-person training is crucial for things like CPR classes, fire safety training, or using specific equipment.
In cases where eLearning is not practical, a mobile learning platform can help to complement rather than replace training. Combined with in-person classes, mobile eLearning can be an instant reference, with added quizzes and important documentation training available at users' fingertips.
Employee reliance on tech
Mobile learning requires high quality, reliable mobile technology. From a stable and fast Internet connection, to efficient mobile devices, users need to have access to the right tech.
Unfortunately, there is a significant "digital divide" across parts of the world. Only about 35% of the population in developing countries has Internet access compared to about 80% in advanced economies. Luckily, technologies like Starlink are working to increase accessibility in recent years.
Smartphone usage is also increasing worldwide, giving more people access to efficient mobile learning devices.
Limitations of personalization
When it comes to personalized learning content, mobile learning does have limitations. Compared to in-person learning, where teachers have first-hand exposure to each student and can cater the pace and content to their needs, mobile learning may feel a bit robotic.
In mobile learning, pre-recorded content and off-the-shelf learning modules are created to reach a wide audience and for quick and easy dissemination. To increase the level of personalized educational content, try mixing in "live" elements throughout learning modules. Occasional live video calls, discussion forums, and live chat will all provide a greater sense of personalization.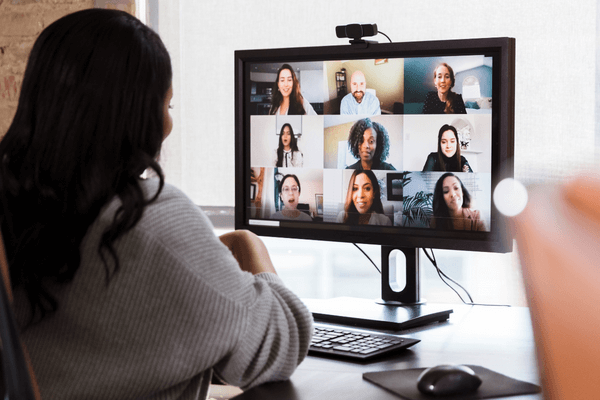 Technology and employee technology literacy
With any technology, there's the chance it malfunctions. Programming bugs, broken links, problems loading… things happen despite IT teams' best intentions. Investing in high-quality eLearning platforms best ensures that these types of problems are kept to an absolute minimum.
Technology is also accessed and understood differently for each user. There are many levels of technology literacy. Some people may not even use a mobile phone. Accommodating varying degrees of tech literacy can be difficult with mobile eLearning, as there is often an assumption of a minimum knowledge level.
L&D teams should provide adequate training on how to use mobile eLearning platforms, as well as offer flexible support to every user throughout their training activities.
Learn from Anywhere
Mobile learning is an exciting strategy for L&D teams looking to maximize user engagement. It's a powerful tool with many advantages for job training and education in general.
Learn more about mobile learning on our Front Line Feed and download our Guide to Implementing eLearning For Your Employees.