I'm on the countdown to my first trip to Columbus, Ohio.
I've been told to check out the Olentangy Trail and other local sites in Columbus, but my reasons for the convoluted flight from our Canadian office are more than just sight-seeing.
Branded as the event that 'brings association professionals new ideas, trends, and best practices to give you the wows, zings, and ah-has,' I'm setting sail to Columbus for the ASAE Annual Meeting.
At the ASAE Annual Meeting and Exhibition, we're talking to association leaders about the value for associations to have their own app.
Whether you're heading to ASAE or not, today I'm delving into the functionality of a branded member platform.
You want your members to have the best possible experience
I've found that communication, education and engagement strategies are the pillars of many associations – and that the members responsible for communications and leadership want a better approach. They also know that members want to get the best possible experience from their active membership and association.
Ultimately, delivering on expectations and consistently raising the bar by bettering your association's strategies are key to boosting member engagement.
Justifiably, then, associations will want to deploy their app to its full potential.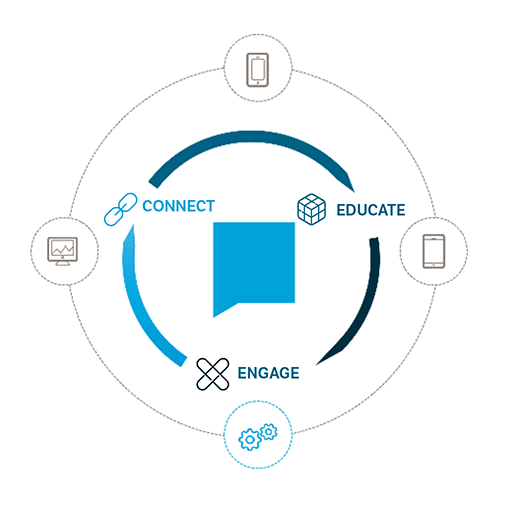 Communication:


Associations can leverage existing newsletters, journals and other content through their app
Your app can be your communication hub for everything. From simply touching base to signing up for the next conference, open your association to members with these features:
A Notice Board can become the hub everyone wants. Communicate through posts, share articles or links, remind members of important dates and more. 'Likes' and comments make small, day-to-day interactions easy, with both features easily toggled on and off.
Messaging can be both a replacement for e-mail and a feature that compliments it. Form groups that target by association location and member role to keep members in contact and up-to-date.
Store important links and documents to build a library for members to pull up with the in-app viewer.
Member associations need to understand the unique benefits they offer and add value to their communications.
To remain relevant and achieve their mandate, associations need to embrace technology and member-driven feedback, ultimately undergoing a digital transformation.
Education:
A built in Learning Management System means members can leverage professional development without leaving their app. 
Members of all ages appreciate learning opportunities. Presenting educational resources in an accessible, mobile format is an excellent way to give members more value. Forming a library of academic items encourages professional growth and new thinking, both things that contribute to engaged and creative members.
Having an app that includes LMS features is an excellent way to disseminate courses and lessons to the entire member-base quickly and reliably. Baked right into their digitally-driven association experience, members will appreciate being able to pull up a course from the same place they can share ideas and hold discussions.
Using analytics helps association leaders stay on track and better understand which  learning paths are the most engaging.
Engagement:


Give members a chance to be involved and encourage participation in achieving your mission and mandate. 
Keeping members engaged means maintaining, and exceeding, the expected level of high-value touch points. Keeping members updated regularly with targeted services and perks will beat a downward trend of membership renewals.
Champion a strong engagement strategy with these facets of your app:
Refine the usage of in-app onboarding tools to welcome and assign activities for new members. Help them avoid feeling confused or uninformed with automated and targeted processes.
Polls and surveys can help gauge engagement and satisfaction along every step of the way.
Use your communication and education tools to enhance their entire experience, and you'll have a fully-engaged member base in no time.
In fact, it can be surprisingly easy to move someone from being a potential member to a fully-engaged association ambassador.
Everything members need, all in one place – their device
With your own app, you can encourage a culture of engagement throughout the whole member life cycle, from initial meetings to membership renewals.

Heading to Columbus for the ASAE Annual Meeting? Let's talk.