If you're championing company-wide adoption of an employee engagement app, you already know that you need to justify value beyond a tool for only internal communications.
Scoping the broader business value will not only help to convince your boss, but also other internal stakeholders.
Given that an employee app reaches your workforce directly on their devices, this could go past an internal comms medium and also be a training portal for HR, or a tool used to digitize health and safety processes for operations. With so many teams being either fully or partially remote, the need for an app that digitizes the workplace is greater than it was in 2019.
Now, you just need to convince everyone else that it's what your workplace needs.
Making a solid case for an employee engagement app
Find the value in it for yourself first. If you don't like it, why should your boss?

Dig into stats, results and market reports. Will you be able to present these benefits to your boss? They'll want to know that an app could produce tangible benefits/results.

Use our additional resources to keep things structured and informed!
Step 1: Justifying

Value for the Internal Communications Team
Determining how an employee app could be the Swiss army knife you need in 2021 is simpler than you may think. Here are some questions that'll help you lay things out before digging in:
What are the nagging issues that have persevered?
Here are some of the top issues that other comms teams have used an employee app to overcome:
Too much 'noise' to get internal comms through
Too many non-essential/low-priority tasks
Need a better way to reach remote teams
Low engagement numbers, or worse, no way to measure these metrics
Are there any unknowns or big challenges you're worried about going into 2021?
Most communicators are concerned with:
Improving two-way communications
Engaging both in-office and remote workers
Prioritizing high-value projects
Measuring the impact of efforts
How many tools do you have currently in your comms stack?
Would you like to get rid of some?
Many communicators have too many apps or subscriptions.
With 'noise' and fatigue being top issues, de-cluttering your coworkers' app drawer is an excellent way to simplify the work day. (A relatable example: How many video conferencing programs do you have?)
How do you envision using an employee app?
Go in with a clear idea of what you want to use it for.
Brainstorm: Will it immediately be used to streamline bulk communications? Will an app be useful for your existing comms strategy? It's always wise to have a plan – something your boss will be looking for when you pitch your ideas to them.
Still convinced an employee app is the kickstart your comms will need in 2021?  The next step is to build a business case for getting one: Outline what it'll bring to the table, how that helps and who it will benefit.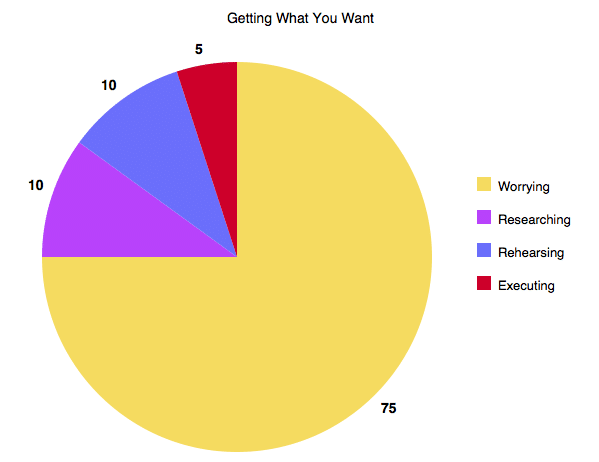 (Anchor)
---
What to tell your c-suite:
Branded employee apps can speed up digital transformation
If you're reading this, there's strong chance that you're shopping for an employee app as part of a digital transformation roadmap. Your boss has mentioned it, it was a theme of strategy meetings, and the new state of the (digital) workplace has certainly pushed digital transformation to the top of the priority list.
Your business' executives will be interested in a tool to digitize multiple processes for not just internal communications, but the entire workplace.
Quickly answer these questions for your c-suite (because they'll be wondering):
Think of what it'll be used for. Will it:
Replace an existing subscription or part of your company's stack?
Complement something you're already using? Think of how instant messaging makes a social media platform that much more useful.
Benefit more than just you or the comms department? Weigh how an app would improve things for not just you, but your boss, employees, operations, finance department and HR.
Present tangible, measured benefits? How soon will they be noticeable?
They'll also be interested in how this investment will affect profitability.
For instance, Gallup found that "businesses with more engaged employees outperformed the opposite by over 20% in productivity and profitability".
Highlight how results are measurable, like in this Gallup stat. It's obvious whether or not employees are engaged and being productive, so the fact that mobile apps can bump up productivity by almost 40% should matter to your boss.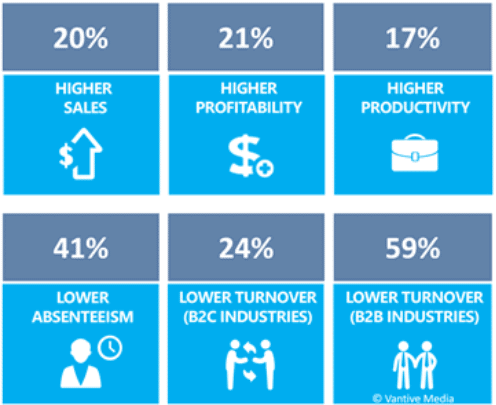 (Gallup)
Helpful tip:
Bring something decision makers can actually see – get them onboard for a demo session, exploration call or make a presentation that details everything and has footage and captures of the product in action.

Any savvy decision-maker will also quickly weigh the risks that come with the new product. Don't forget about these potentially-costly variables:
cost/benefit
development
implementation time
additional or even hidden costs
Gather information – how an employee app answers your issues:
The final step to tying a bow on the case for an employee app is to research. Dig into the finer points of the product(s) you are considering.
Before this, though, draw up a plan and keep some important factors in mind:
With various offerings competing for your interest on the market, this'll take some time.
Many developers offer interactive demos.
Crunch some numbers: no one likes doing it, but you'll have to think about money. How much would this set your comms budget back? Could you trim other software in your stack as a result of this implementation?
The power of an employee app
Like most of the apps you currently use, you're considering rolling out an employee app to solve challenges.
This is the most important attribute of any paid service for your boss, the IT coordinators out there and every employee on the clock. Let's break down the power of an employee app.
It provides the tools needed to reach the workforce – whether they're remote or in the office.
When respected global research produces a stat like "only 1 in 3 employees feel that they have the services they need to do their job right", it's clear that employees want high quality, effective tools.
An app can level the playing field while maintaining an offering of high-quality services and tools.
The best employee apps pack features like messaging (email alternative), feedback tools, training & onboarding, notice boards, targeted communications, compliance tracking, automated forms, checklists and more.
An all-in-one solution, that reaches employees on their own device.
An employee app can be the hub your company needs. Employees can be engaged through polls, surveys and notice boards, while comms and IT have a place to send critical messages and manage compliance.
Most employees use around 8 apps for work. And the number is going up: Rather than tacking on more users to existing apps, companies are opting to throw more logs onto the fire and find new services.

This can be seen as a sign of apps being inefficient or not bringing much value to the workplace. Redundant apps benefit no one and burn the budget.

Engaging a disconnected workforce
Employee engagement is becoming a priority and an aspect of the work world that can't be ignored anymore.
Research shows that engaged workers bring in the big bucks:
Companies with higher engagement grew their profits by 28% in 12 months, while those with much lower engagement stats lost 11.2% in the same timeframe.
Additionally, MIT concluded that businesses who offer great employee experience are rewarded with "twice the innovation, double the customer satisfaction, and 25% higher profits."
In other words…
Find the value. What issues will it address? Who will it help and how?

Why should your boss care? What are the benefits?

Dig into what an employee app offers. Hard stats, solutions and services are what you should be looking for.

Tie it all off with something the decision-makers can see. Demos, presentations and footage.
 Lean on our additional resources as necessary. We're here to help.
Building a business case? Try these great resources:

Want to make a great looking presentation? https://www.canva.com/create/presentations/

Need a template for a written proposal? https://www.process.st/how-to-write-a-proposal/