When looking to connect a partially-remote workforce, businesses will likely look to an app like Microsoft Teams to facilitate employee communications and as a tool for their front-line – I know that this is something clients are always looking to discuss with me.
For organizations that are currently subscribed to a Microsoft 365 plan and other services, this is a typical choice. Between having the ability to message, share files and hold video meetings, MS Teams presents many ways to engage your online office. But what about when you need to work with a front-line, distributed workforce?
Depending on what your goals are, an employee app may be the better choice. I'll show you why with my comparison of Microsoft Teams vs. an employee app.
What features are packed into Microsoft Teams for businesses?
Teams is the product of several years of updates and Microsoft's older services like Skype for Business and Microsoft Classroom.
Working its way into the collaboration software market quickly, Teams started as 'the Slack competitor' but has now pivoted to taking on other big names like Zoom and Google as a great digital tool.
Teams is right there for 365 users. Here are some notable features and uses:
Chat, video and audio communications.
Integration with Word, SharePoint, Outlook, Excel and other 365 products.
Built-in app store to download both first and third party apps.
Available on mobile or desktop.
Even with this short list, it's clear why Teams checks off the boxes for many businesses as a tool for the front-line.
It isn't always the best choice, though.
Why you may want a Teams alternative
Like many popular options, Teams can get weighed down by features and increased use. After piling in file after file, you may find that it's become trickier to navigate through your Files and Teams tabs.
For front-line workers who are on-the-go and those who're less tech-savvy, it helps to have everything in one spot. Employee apps house all of their functions right in one hub – Teams' layout and network of apps, plugins and windows may confuse some and be too cluttered to be a digital tool for front-line teams.
Teams' branding options aren't as in depth as those offered by its employee app competitors. Brand engagement matters for your people, too!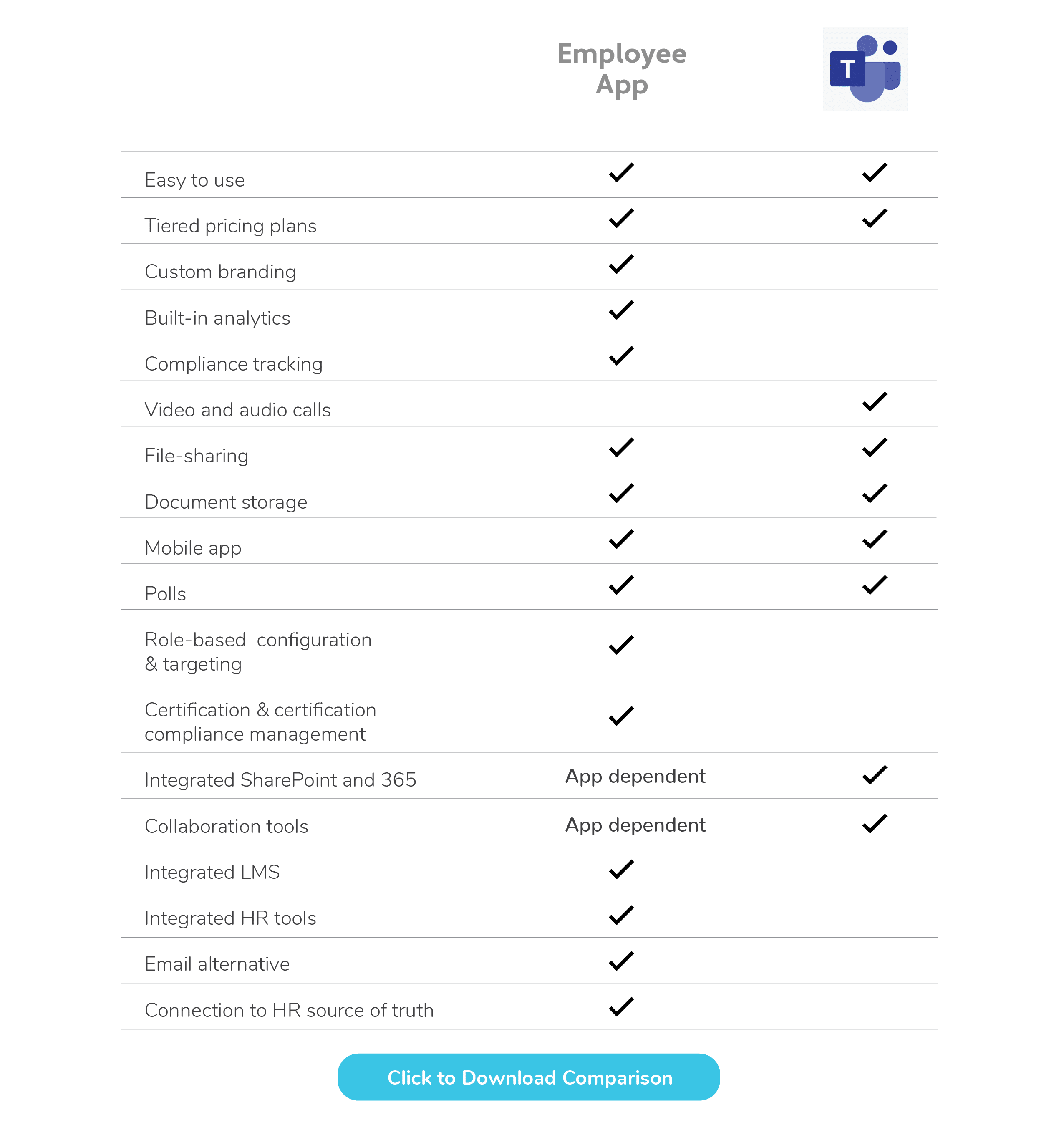 An digital tool for collaboration, communication and more
With Teams' features in mind, let's take a look at the situations in which an employee app is better for your business.
First: While this may not seem important, you need to consider whether or not everyone at your organization has a dedicated work email address. If they don't, they're likely only reachable by their work phone line or personal email address.
Sending important — and occasionally sensitive — information to someone's personal inbox poses a huge security risk. If your IT team can't access your company's email exchange, there's no telling what has happened on the receiving end of the communication.
Employee apps don't always require the user to have an email address, though. Here are a few of the ways employees can communicate and collaborate securely.(Without even needing an email address)
Built-in secure messaging: Just search by name, role or business unit to find the user(s) you want to reach. It's a secure way to skip past the email blasts and jump into instant messaging for everyone.
Virtual Notice Board: Teams' connection to SharePoint is useful for document housing and live editing, but for many, setting up an intranet for their workplace is confusing. Employee apps can offer a fast, simple way to give your employees a robust, configurable and filterable way to socialize.
Pulse polls: You don't need to plug in an extension or third party app to get this feature on your employee app. These are a speedy and effective way to gather feedback on an important question.
Engagement analytics: This is for the administrators, but Teams doesn't have an analytics tool comparable to what employee apps like iTacit are packing. With our teams spread out into their homes and remote offices, it's more important than ever to see who is engaging with messages, documents and more.
Your digital workplace needs to be communicative
This doesn't just mean conference calls and calendars.
For many businesses, the search for a tool like employee apps and Teams can be confusing. I think that most organizations benefit from rolling out an app that puts everything it does right there, front and centre, to ensure that employees can hit the ground running.
iTacit's users are a great mix of front-line, administrative and more, so I've seen every end of the hierarchy. And I can tell you that they all want a tool that makes them more productive but is still easy to use.