We know that the right company engagement ideas can help improve productivity, streamline workflows, and lead to happier teams. From the cheesy but fun to innovative, technology-driven solutions – here are some ideas to improve your employee engagement.
Of course, not all engagement ideas for employees are created equal. Not every team member will love to participate in a challenge, or maybe a more introverted employee will find speaking up in different channels more difficult. Some also take more time and effort to engrain in the company culture.
That's why we've offered a variety of new ideas for employee engagement spanning from the classic to the novel. Hint: They're organized from least to greatest effort.
Infographic: 30 ideas for internal communications and workforce engagement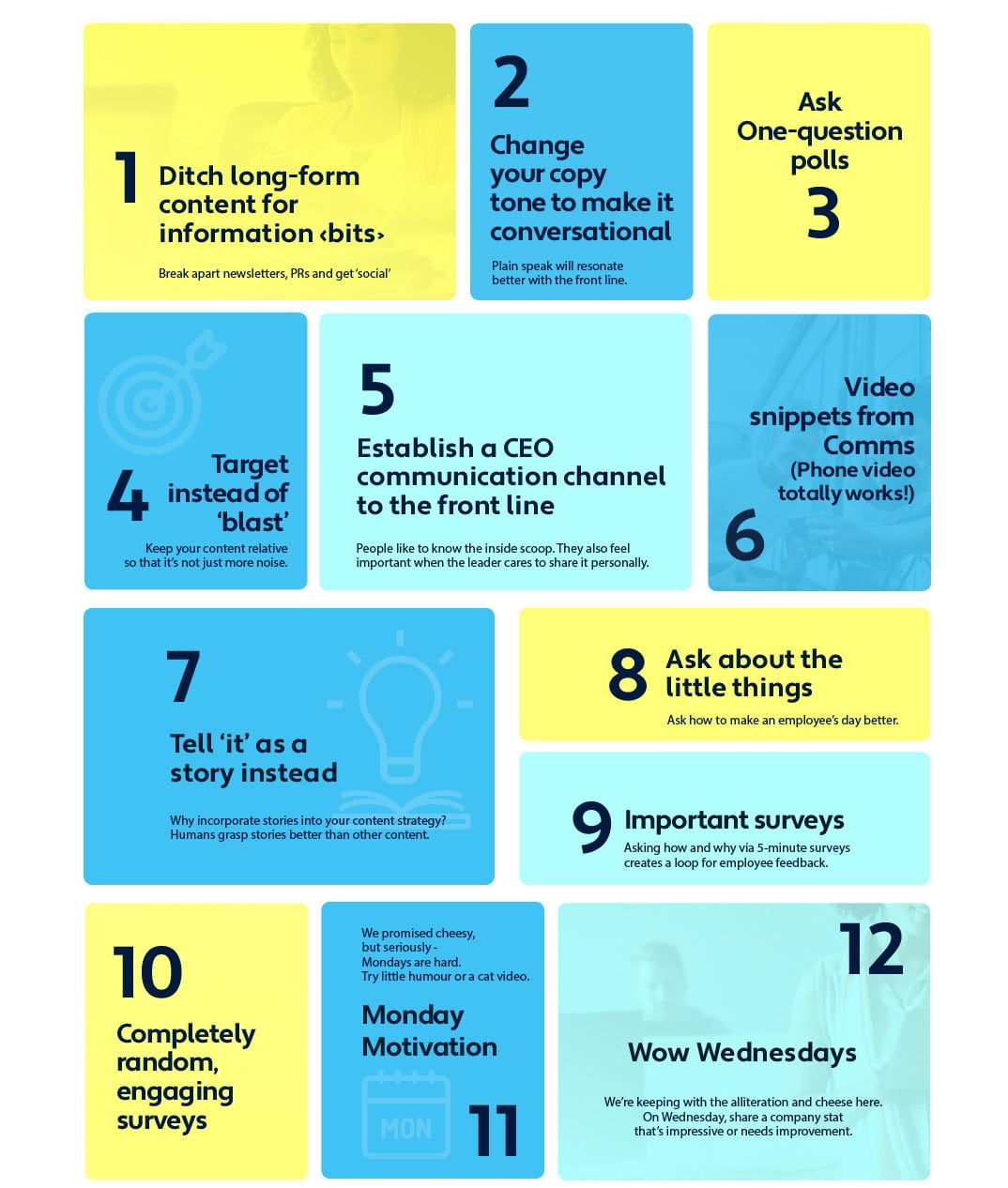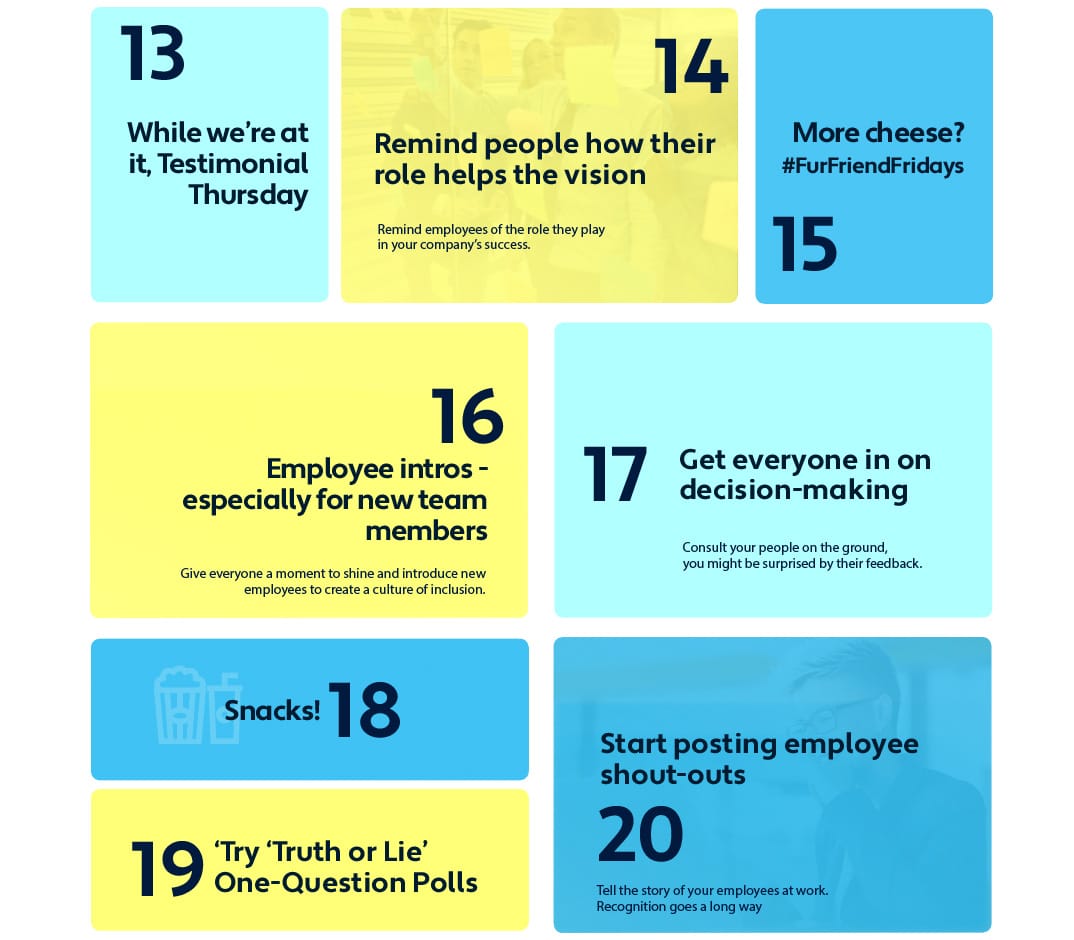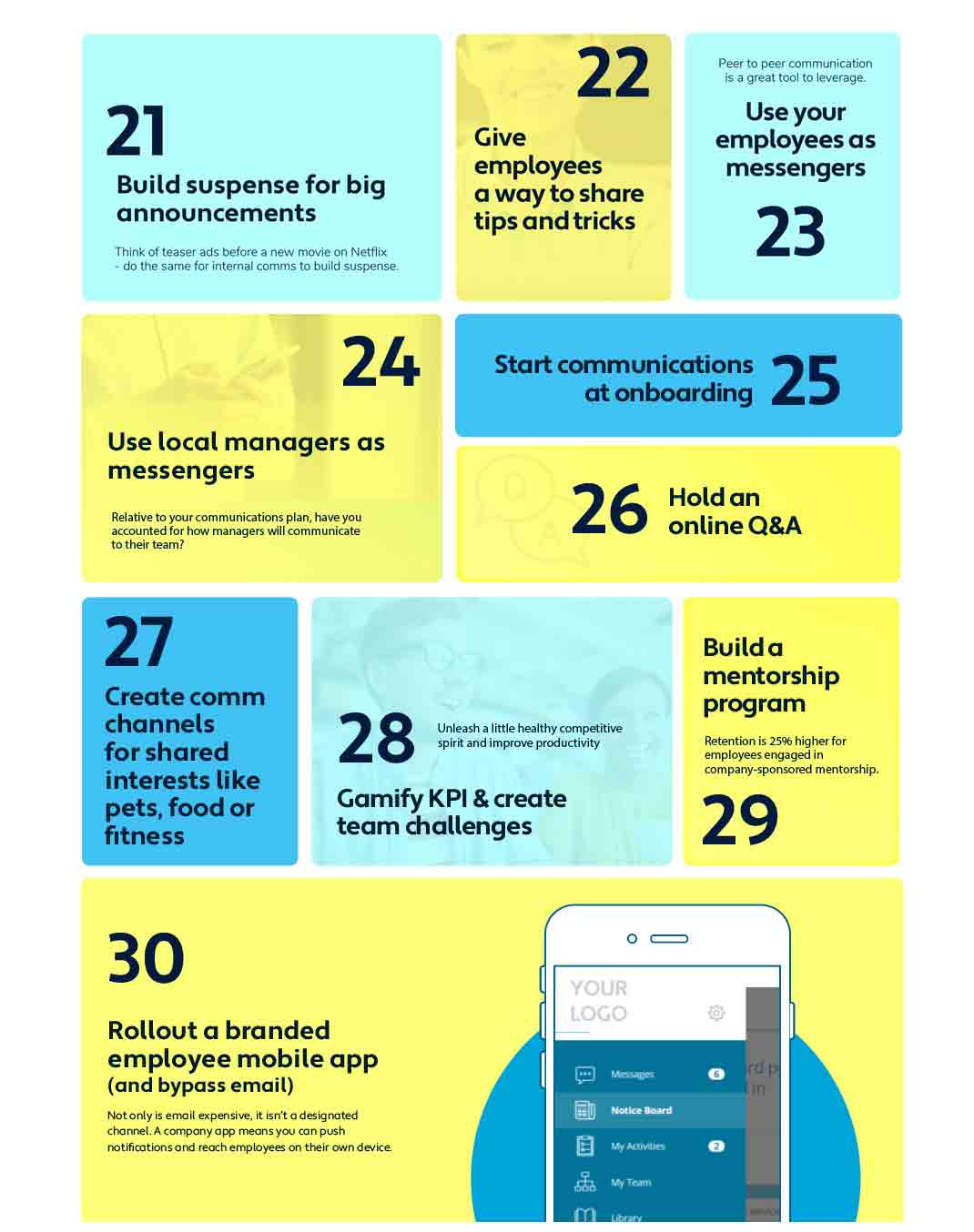 1. Ditch long-form content for informational bits
Break apart newsletters, PR and get 'social' to get your employees engaged at work.
2. Change your company tone to make it conversational
Plain speak will resonate better with the front line. A more conversational approach can encourage employees to join the conversation.
3. Ask One-question polls
Keep it simple. The best employee engagement activities, like surveys, are easy to administer, take, and analyze.
4. Target instead of 'blast'
Keep your content relevant so it's not just more noise. This can also increase employee engagement with your content.
5. Establish a CEO communication channel to the front line
People like to know the inside scoop. Also, employees feel important when the leader cares to share it personally.
6. Video snippets from Comms (Phone video totally works!)
New employee engagement ideas lean on technology to make them more exciting. Engage employees with fun, lively content like videos.
7. Tell 'it' as a story instead
Why incorporate stories into your content strategy? Humans grasp stories better than other content.
8. Ask about the little things
Ask how to make an employee's day better. This little gesture can go a long way to improving employee happiness in the long run.
9. Important surveys
Asking how and why via 5-minute surveys creates a loop for employee feedback. Use the responses to come up with more ideas for employee engagement that are personalized to your team's needs.
10. Completely random, engaging surveys
Don't make your work environment dull. Random, fun surveys are great for team building and bridging the gap between work from home and in-office teams.
11. Monday Motivation
We promised cheesy, but seriously – Monday's are hard. Try a little humour or a cat video to put a smile on your team's face.
12. Wow Wednesdays
We're keeping with the alliteration and cheese here. On Wednesday, share a company stat that's impressive or needs improvement.
13. While we're at it, Testimonial Thursday
Showcase a client success story or keep it more personal with an employee spotlight.
14. Remind people how their role helps the vision
Remind employees of the role they play in your company's success. Employee recognition can help improve job satisfaction and productivity.
15. More cheese? #FurFriendFridays
Get the weekend started on the right foot by encouraging your team to share pictures of their furry friends.
16. Employee intros – especially for new team members
Give everyone a moment to shine and introduce new employees to create a culture of inclusion.
17. Get everyone in on decision-making
Consult your people on the ground, you might be surprised by their feedback.
18. Snacks!
Never underestimate the power food has to bring people together. Whether it's an internal happy hour or morning bagels, it can be a great bonding time.
19. Try 'Truth or Lie' One-Question Polls
Encourage your employees to have some fun with this creative game that takes seconds to play.
20. Start posting employee shout outs
Tell the story of your employees at work. Employee recognition goes a long way.
21. Build suspense for big announcements
Think of teaser ads before a new movie on Netflix – do the same for internal comms to build suspense.
22. Give employees a way to share tips and tricks
Let your employees share office hacks or tips for achieving a work life balance.
23. Use your employees as messengers
Peer to peer communication is a great tool to leverage. The best ideas for employee engagement encourage communication.
24. Use local messengers as messengers
Relative to your communications plan, have you accounted for how managers will communicate to their team?
25. Start communicating at onboarding
Company engagement ideas begin at onboarding. Start the relationship off with new team members on the right foot.
26. Hold an online Q&A
Bring your team together to ask and answer any questions they might have (but have been too busy or introverted to ask).
27. Create comm channels for shared interests like pets, food or fitness
Provide a channel for more laid back communication where employees can share some of their favorite things.
28. Gamify KPI & create team challenges
Unleash a little healthy competitive spirit and improve productivity.
29. Build a mentorship program
Retention is 25% higher for employees engaged in company-sponsored mentorship.
30. Rollout a branded employee mobile app (and bypass email)
Not only is email expensive, it isn't a designated channel. A company app means you can push notifications and reach employees on their own device.
Engagement ideas for employees don't need to be extravagant or expensive. iTacit empowers you to facilitate better employee engagement from one easy-to-use platform. Learn more about our platform for an engaged workforce and more new ideas for employee engagement today.